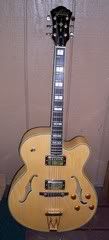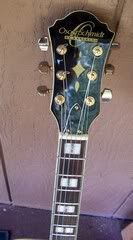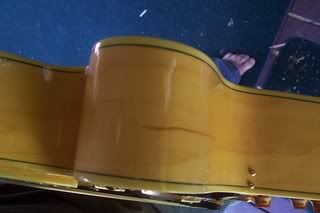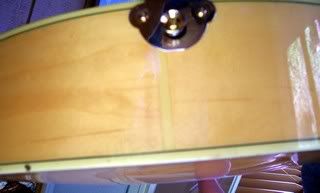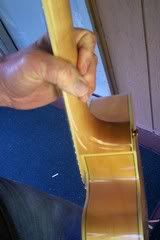 Pickups (ignore the reflection distortion)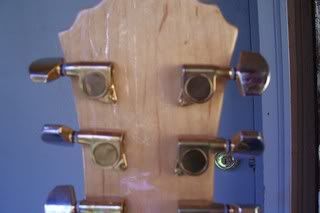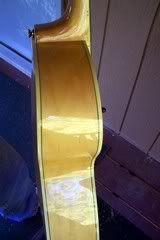 Washburn made these Oscar Schmidt OE-40s.

(list price new when they were available $499.00)



Originally posted for sale, I sold this guitar long since. But you need to read the rest of this report!


You Must Know

This

Before Buying A Guitar
brand-name guitars are way overpriced.



If you've got lots of money to spend, no problem. .

But if you want to buy excellent guitars at extremely-low prices, keep reading...


Oscar Schmidt OE-40

This model has been discontinued, probably because it was too good a guitar to sell under $500.00 (list price). It actually sold new for

UNDER $199.00

. I paid less than $180.00 for these guitars.

*I bought a black one and sold it immediately.
*I bought another black one and sold it right away.
*Then I bought the beautiful natural color guitar that you see on the right. Mine for awhile.


Listen to this guitar at
David Schneider
on tracks S
equential,
Boliviana
, and
Fallin' in Love with You
.
Fallin' in Love with You
You will have a hard time finding a guitar like this now because people are hanging onto them... as a result, you likely will spend more; but still saving many hundreds (or thousands) of dollars.

As an alternative to the hard-to-find Oscar Schmidt OE-40, there are some really, really nice Oscar Schmidts available like this OE30, one of which I have had the pleasure of owning:




And this Les Paul type guitar that has gotten great reviews (my next guitar):






Why did I sell this Oscar Schmidt OE-40 if I love this guitar so much?

I moved to South America (Peru) and sold a lot of my gear.

However, as soon as I recoup my finances, I

will be looking for one exactly like this.



I have been playing professionally on Fenders for 30 years. I now own a cheap imitation Telecaster that I just love (but had to leave in storay in the state of Washington).

However, I liked this OE40 better! No need to tweak it. It is set up to play, great intonation.

I played this guitar heavily for 3 years. There was some fret wear but not enough to affect the playing at all.

Even after that wear and tear, note what I stated before I sold it,

"...it's hard to find anything wrong with this baby. It has a GREAT finish. I couldn't find a scratch anywhere and I play pretty hard."

"Another band member played a Gretsch
, and this guitar is just as good, can't tell the difference."

What can I say, if you must have one guitar, this is it.
---------------------------------
Here are the sales blurbs from when it was available and listed for $499.00:



This can be a sweet-toned jazz box or rock-billy and blues guitar that really cooks.



You'll get great sound from this large-size Oscar Schmidt OE40 Hollowbody Electric Guitar.

Washburn Eliminator Jazz Series pickups deliver warm, vintage tone enhanced by the maple top, back, and sides.
Appointments include pearl inlays on the rosewood fingerboard and snazzy gold hardware.

This baby delivers looks and tone all out of scale with its diminutive price.



Oscar Schmidt OE40 Hollowbody Electric Guitar Features:





• Eliminator Jazz Series pickup





• Maple top, back, and sides



• Pearl inlays on the rosewood fingerboard

• Gold hardware