Saranda, Albania - Red Sea Glass Button
by Admir
(Saranda, Albania)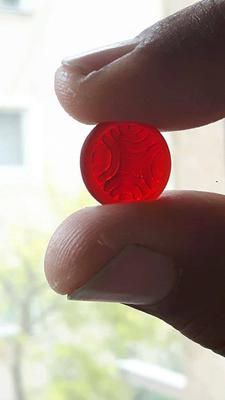 Red sea glass button from Albania
Red sea glass button, marbles, etc....


---
From Wikipedia:
"Saranda is a town and municipality in Vlorë County, southern Albania. It is one of the most important tourist attractions of the Albanian Riviera. It is situated on an open sea gulf of the Ionian Sea in the central Mediterranean, about 14 km (8.7 mi) east of the north end of the Greek island of Corfu."
Note that in the photo of the beach, there is little wave action and tide action, so not to expect perfectly-tumbled sea glass. However... it is a very, very old site and apparently there is a LOT of beach glass there. What a beautiful find the red "button" is. Amazing!
~ added by David and Lin @ OdysseySeaGlass
Click or tap here for more sea glass from the Mediterranean >>>