Hi,


Among the more frequent questions we get regarding sea glass is this one:
How much can I sell my sea glass or beach glass for?

On the other end of the stick are buyers wondering where to get sea glass for their projects.

Be sure to read our comments later on in this newsletter.






Lin and I have been enjoying

the warm weather here in coastal Peru. Although it has "only" gotten up to about 77 degrees in the shade, the humidity is on the high side.

This is good for us who have dry skin (David), but a little sticky for Lin (whose comfort range is between 73 and 75 degrees F. Below that she freezes, above that she is not so comfortable but prefers very warm to very cold.

Some of you might feel that way too. Others like the cold side, like our friend Gabe. For him, 50s is shirt-sleeve weather, 60s is too hot. Ain't it nice we're all different?

Pretty much everyone agrees, though, that when hunting sea glass, warmer is better (within reason).

So the beach has been nice for hunting... but varies quite a bit as far as the finding part.

For example, take a look at this veritable treasure we accumulated last Friday, the 10th of January: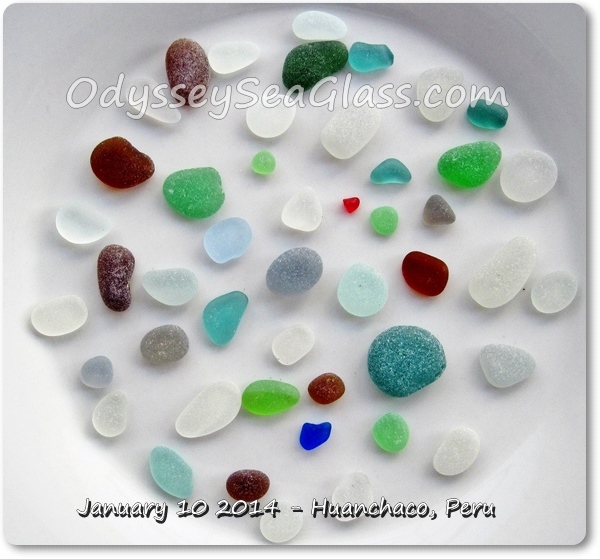 These were the nicer colors out of a bunch of sea glass that we found that day. Today? Almost nada, zip, zero.

Well, not quite but just not the "same beach" so to speak.

The waves had come up in the last 24 hours and changed things around to the detriment of the sea glassers expectations.

~ David




Here's what you'll find in this January 2014 edition of the Odyssey Sea Glass Newsletter.



How much is your sea glass worth? Have you wondered? Many have.



How much can I sell my sea glass for and where?
This question arises generally when someone needs money, sees sea glass for sale somewhere, and then hopes to sell the collection they have accumulated (or inherited).

The answer to how much one can get is pretty much the same story as selling wheat, shoes, or other commodities - how bad someone wants it and how much is available.

It used to be (probably going back about 5 or 6 years) that good grade sea glass in a nice color would bring a pretty nice price.

However, many many people are now selling sea glass, or better said, trying to sell sea glass.

The market is flooded - and not just with common colors of craft. You can go on eBay, for example, and purchase genuine jewelry-grade sea glass in colors you will likely not find in your lifetime for just a few dollars. What was worth $100 a few years ago might bring $25 today.

If your sea glass is a common color, you will find it very hard to sell, especially if it is not jewelry grade.

If you do want to sell your sea glass, the best options are Etsy.com and eBay.com. Check the prices that other sea glass is selling for and price yours accordingly.

For more info, see more comments and discussing about this question...





Where can I buy sea glass? Three things you must know to identify fake sea glass.
As stated above, two of the most usual places to sell sea glass is on Etsy.com and eBay.com.

You'll find an ample selection of sea glass.



But buyer beware

!!!
Much of what is offered as "sea glass"' is fake sea glass. If you want a lot of glass shards that are the same color and don't really care if it is sea glass or not, than you don't need to worry about this.

But if you are planning on using the glass for something that you can proudly say is made with genuine sea glass, then there are three things you should look for to tell the difference between real and fake sea glass for sale.


The color
The amount of "frost"
The size and shape of the glass
Lin goes into this in more detail on the following page: Your Guide to Buying Sea Glass





Winner of the December 2014 Sea Glass Photo Contest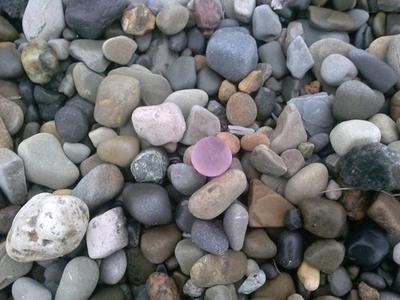 The winning photo is "Beach Glass Marble Beauty" by Jeanne Kollecker
(Chardon, Ohio) USA

Congratulations, Jeanne!

Have you missed out on the new pages and blogs at Odyssey Sea Glass?

Check them out quickly and easily on our Sea Glass Blog or take a look at a selection below that you might have missed.



Happy hunting to all!





David and Lin Schneider




OdysseySeaGlass.com




Did You Miss These Exciting Blogs?
Selected Pages from Odyssey and Contributors
Jan 01, 2014
2014 January 1st - On the Beach Huanchaco Peru Sea Glass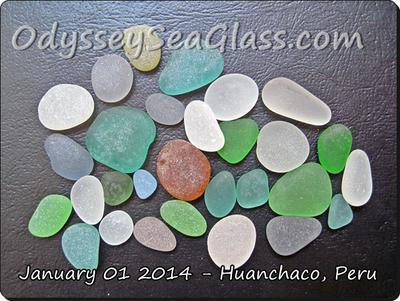 ~ submitted by David and Lin in Peru What a nice day to start the years off! There was a great spread of pebbles and, thus, good chance of finding sea
Continue reading "2014 January 1st - On the Beach Huanchaco Peru Sea Glass"
Jan 01, 2014
Sea Glass Photos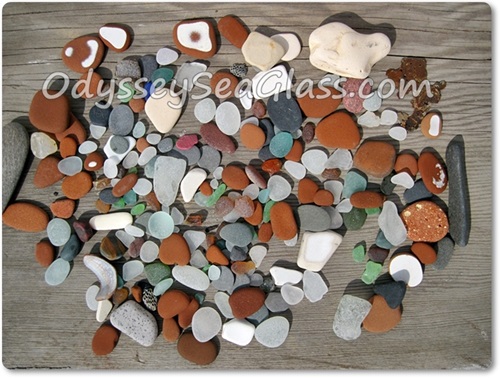 Sea Glass Photos - Stunning photos of sea glass, beaches, beach rocks, and beach scenery
Dec 30, 2013
2013 Dec 30th - Huanchaco, Peru Sea Glass Catch
~ submitted by David and Lin of OdysseySeaGlass.com We had a very nice day at the beach today. Low tide was fairly early, so we were able to miss much
Continue reading "2013 Dec 30th - Huanchaco, Peru Sea Glass Catch"
Dec 26, 2013
Two Hours on the Beach Photo
~ submitted by Holly Harris Hi there: I was going to upload this to your Sea Glass photo contest, but it's not a pretty picture. But ... it is interesting.
Dec 23, 2013
Beach Cleanup Program a Success in Santa Teresa, Costa Rica
December 22, 2013 at 7:33 amWritten by Shannon Farley
Santa Teresa Beach Costa Rica
Walk down the beaches of Santa Teresa, Costa Rica and you're likely to see multicolored crushed seashells, sea glass, and interesting rocks and pebbles along the white sand.
What you won't see as readily is trash.
Continue reading "Beach Cleanup Program a Success in Santa Teresa, Costa Rica"
Dec 14, 2013
Vintage Caribbean Art and Posters
Vintage Caribbean Art and Posters just can't be beat to give that special tropical getaway feel to any room with beach or island decor - whether it be your home, your beach house, or your college dorm!





If the photos and info have been interesting, entertaining, and/or helpful, please remember to click the "Like" or other buttons at the top of each page that you visit to share your favorites with your friends.

And by all means add your comments at the bottom of most pages.



Thanks!