Sea Glass Blog
Sea Glass Home Page - Sea Glass Blog
Odyssey Sea Glass Blog
The Odyssey Sea Glass Blog is our mini-journal about Sea Glass
Our blog:
Lets you know whenever any new Web pages appear on Odyssey Sea Glass, telling you about a new find or adventure

Keeps you up-to-date with other postings or news about Sea Glass (like the latest special beach finds!)

Points out some of our super-special past adventures that you might otherwise miss

Lets you know when we send out the Odyssey Sea Glass e-zine (in case you don't like to give your e-mail address, or if your ISP tends to over-filter causing you to miss an issue)
Would You Like To Be Part Of This Blog?
Become part of the Odyssey Sea Glass Blog! 


Simply tell your favorite story by clicking here!

Your story becomes part of this blog (which shows the site's most recent pages) and a permanent part of OdysseySeaGlass.com for others to read!
Enjoy... this is fun!


Apr 20, 2022
800 CT red Glass!! 04/08/2015 Boise River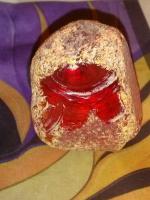 I found this walking along the banks of the Boise River. It weighs in carats 800+
Continue reading " 800 CT red Glass!! 04/08/2015 Boise River"
---