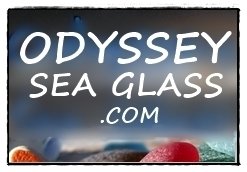 About Us
Home - About Sea Glass Us
Welcome to this page about sea glass, us (the folks at Odyssey Sea Glass), and our sea glass odyssey!
We are Linda (Lin) and David Schneider.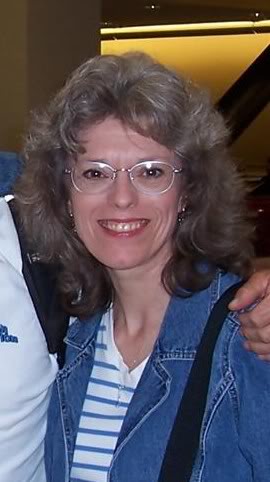 Lin Schneider
LIN: I am pretty much self-taught in sea glass wire-wrapped jewelry. I've been around art all my life because of my mom. She's been an artist for as far back as I can remember.
I grew up on the shores of Lake Erie and didn't know about sea glass then. It wasn't until visiting my mom, who had moved to Southern Maryland, that I really got interested in it. I was collecting sea glass and throwing it into containers. I didn't want to get rid of it but didn't know what to do with it either.

I did this for a few years. My days of sea glass and wire-wrapped jewelry were still years down the road.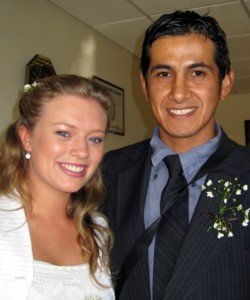 Kelsey and Cesar Mendizabal
BACKGROUND - Other Countries:  To make a long story short, we have lived in 4 countries in Central and South America doing volunteer work as Jehovah's Witnesses for a total of 11 years.  

For most of that time and currently, we have supported ourselves doing medical transcription over the internet.

I went through major empty nest syndrome when our daughter, Kelsey, decided to stay in Bolivia, South America.

At that time, David and I made the decision to say goodbye to the balmy evenings of the south to move to the evergreen State of Washington to help care for my aging in-laws.

We lived in Northwest Washington from June of 2006 to Novermber of 2009.
Living on the Puget Sound, my hubby (David) returned to his guitar playing again, and I started putting more time into experimenting with my sea glass wire-wrapped jewelry.

With the encouragement of my mom, I approached my first art gallery on a visit to her in Maryland and my sea glass jewelry was accepted. Was I excited!
Then my mom sent me a beautiful book on sea glass. That was when collecting sea glass took on a new meaning. It was a like a light bulb went off, and I searched the internet high and low for more information about sea glass.

We're talking about several years ago, so there just wasn't a whole lot of information about sea glass on the internet then.

FINDING SEA GLASS: David (an ex-surfer) and I love to walk the beaches. He thought I was crazy "picking up trash".

Later on though, when he saw that sea glass was something that a lot of people were into, he got hooked too! Now, he's just as eager as I am to go to the beach looking for sea glass. Sometimes he's the one urging me to get out the door!

At the time of the last update to this page (September 2017) we have been living in Huanchaco, Peru (see lots of great sea glass from our local beach) for the last 4 years.

FAMILY Here we are with David's oldest son, Matt "Sharky" Schneider, a longtime surfer who can be found in Kauai or California.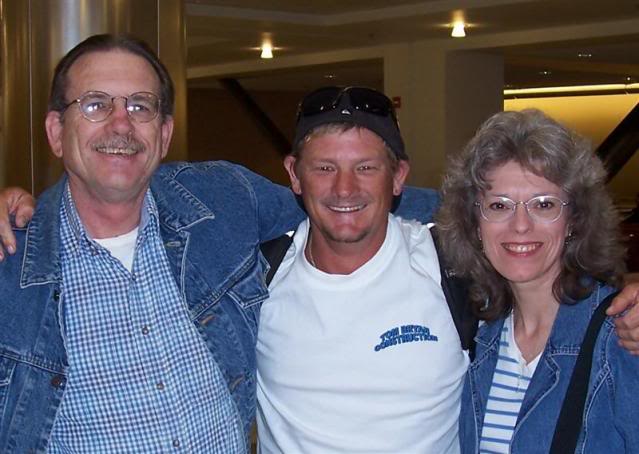 David, Matt, and Lin Schneider
Matt has exciting tales about collecting sea glass at Davenport, California, in dangerous conditions between crashing waves and cliffs...for super sea glass. You can see some of his finds here.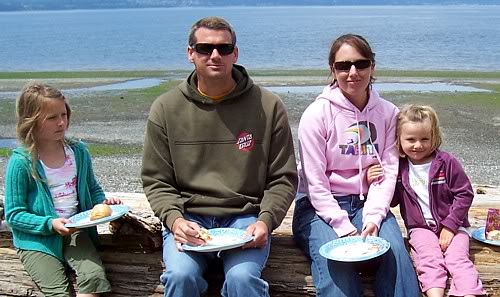 Arianna, Josh, Claudia, and Kiley Schneider
David's second son, Josh, and his family live in La Selva Beach, California.
We've met some wonderful people on the beaches - all walks of life, young and old, all enjoying the beach. Some are there looking for agates, some just to walk, others are sea glass enthusiasts like us.

We're all on a treasure hunt, never knowing what we may find. I love the thrill and the awe of those special pieces of sea glass. There's just nothing that compares to the feeling you get the moment you spot a rare color or unusual piece of sea glass.

I really enjoy collecting sea glass. I hope that you folks who visit this website or persons who buy my sea glass wire wrapped jewelry will also get inspired with the joy of hunting and collecting their own beach glass and become avid sea glass collectors like the rest of us!

Who knows, you and I might run into each other on a beach someday, somewhere.

Lin Schneider

--------------------

How we created this site: We always wanted to do work from home, from any part of the world, which would bring in a monthly income.

We also wanted to work at our convenience and at the same time enjoy doing it, too. We knew internet was the best way to accomplish this. We had tried several things on the net, but nothing came close to our expectations.

Then we stumbled upon SiteBuildIt (SBI) which we studied in detail. SBI had everything we were looking for, in fact much more than we had expected.

SBI guided us, non-techies, to build a successful website step-by-step at our own pace, helping us to build a nice little niche based on the passion and knowledge of sea glass collecting.

We now enjoy every moment creating this site. During the process, we learned many new things that otherwise we wouldn't have known at all.

If you too have a passion like us, whatever you are passionate about, and want to go forward to fulfill your dream, you are most welcome to have a look at how we did it.

Watch this Video.
If you are a person capable of following the instructions on your own to build your site and/or run a successful web business just click here.

OR

If you are a person who needs person to person help with an instructor to take you through the steps to build and run a successful web business, just click here to take the elearning course of 12 weeks.

It's of interest to know that the Solo Build It course is taught in 25 Universities around the world at the time of this writing and more are currently being.

Do contact us if you have questions about building a website like this.

We hope that you have success with your online business.

David and Lin Schneider
Don't Miss Out On The Latest Additions - Subscribe To Odyssey Sea Glass Newsletter
Keep up to date with our occasionally published newsletter that highlights specially written articles and interviews of fascinating places, beaches, and people involved in the world of beach combing, especially of the sea glass kind!

Fill in the information in the following subscription form. Don't worry, your email address will be used ONLY for sending this newsletter out. We hate spam as much as you do!
Go from About Sea Glass and Us to Odyssey Home Page

Go to Questions and Answers from About Sea Glass - Us
---