Sea Glass Question and Answer Page
Ask a  sea glass question. Value of sea glass? Identify your glass shard? Get answers from experienced beach people.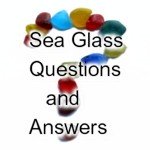 STOP!
Choose one of the following:

Note:
Our Sea Glass Photo Contest has been discontinued to lack of time :(
This page is here only for reference purposes (many photo links are shown below)
David & Lin
If your question includes a photo
or

is more than 300 words, use the form below.

To upload a photo, it should be less than 1000 pixels wide.

Click here for easy instructions on resizing your photo.


As soon as you enter a word in the title box, you'll see the rest of the form appear - go ahead and try it.
What Other Sea Glass Enthusiasts Have Said
Click below to see questions and answers from other sea glass fan-addicts.

NOTE - Using ALL CAPS is considered shouting in website forums - please don't use all caps.
No Photo? Follow these instructions:

1. Use the Facebook comments below or

2. Search for a related page on this site and ask your question in the comments section:
Thanks!