Sea Glass Question and Answer Page
Ask a  sea glass question. Value of sea glass? Identify your glass shard? Get answers from experienced beach people.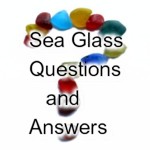 STOP!
Choose one of the following:

Note:
Photos will be deleted if they are blurry, out of focus, or too far away to see the glass clearly.  We will contact you before deleting your photo if you leave an email address on your submission form.

If your question includes a photo
or

is more than 300 words, use the form below.

To upload a photo, it should be less than 1000 pixels wide.

Click here for easy instructions on resizing your photo.


As soon as you enter a word in the title box, you'll see the rest of the form appear - go ahead and try it.
What Other Sea Glass Enthusiasts Have Said
Click below to see questions and answers from other sea glass fan-addicts.

NOTE - Using ALL CAPS is considered shouting in website forums - please don't use all caps.
No Photo? Follow these instructions:

1. Use the Facebook comments below or

2. Search for a related page on this site and ask your question in the comments section:
Thanks!