Large grey sea glass identification from Japan
by Shanna Estep
(Okinawa, Japan)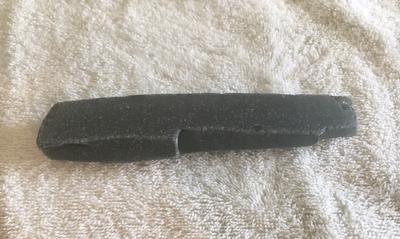 We found it at "sea glass beach" in Nago, Okinawa, Japan
Would anyone be able to help me identify the origin of this piece?


While this piece of sea glass isn't in pristine condition, with some chipped sides and edges, it was simply too unique not to add to my collection.
It is a fairly light grey color overall, it appears to look darker on the white towel, and fairly light when held up to the sunlight.
It is 5 1/4 inches long, and a little over an inch at its largest point. One of the sides seems to have some etched lines. (see picture)
We found it at "sea glass beach" in Nago, Okinawa, Japan. This beach is a treasure trove of sea glass, table ware pieces, and some pretty amazing "bonfire" sea glass.
From what I was told: in 70's through 90's they would burn their trash on the small cliff over looking the beach, remove any large items, and push the remaining ashes, small pieces, and glass into the ocean.
This piece doesn't appear to have any burning signs what so ever.
My only conclusion is that it's maybe from a large vase???
I'd love to hear all other thoughts on what it might be.
~ By: Shanna Estep,Okinawa, Japan