Home - Sea Glass Overview

Sea Glass, Beach Glass, Seaglass
You're On Your Way to Sea Glass Adventure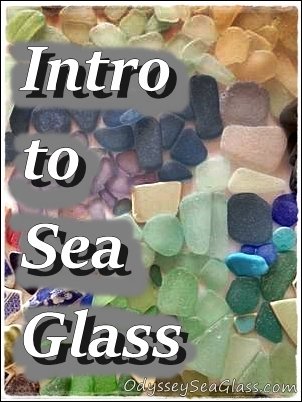 Beach combers as well as the occasional beachgoer have been bringing home sea glass for generations, but lately this exciting facet of beach combing has really soared in popularity. Here's why! 

An Overview - A Fascinating World of Colors Hidden in the Sand...
On this page we consider:
The Various Terms for Beach Glass
More about what sea or beach glass is and is not
Links to find specific areas of info on this site
Learn About How to Find It, Best Beaches.
The section devoted to collecting seaglass goodies
Where to find good beaches
Jewelry, Arts, and Crafting
Working with beach glass
Beach glass art
Colors, Rarity, Charts, and Grading Sea Glass
Identifying rare beach glass
A scale of color and rarity of beach glass
Finding Out More About Sea or Beach Glass
Beach Glass / Seaglass
All About Sea Glass - In More Detail
Information on sea or beach glass especially for you. 
Our goal here at Odyssey is to provide you all the information you need to become a "mini" expert on this subject...and really enjoy the process! 

What is Sea or Beach Glass?
When friends find out we have started a web business, the first thing they ask is:
"What is the site about?" 
The second question many times is "What is sea or beach glass?"
Then again, when we begin to explain, many who have lived near the beach will recognize what we are talking about.
They just never knew that it had a name.

Or, they may have used different names for the colorful glass "rocks" that they found on beach.
Some other names for sea glass are:

Beach glass
Sea gems
Beach jewels
Mermaid's tears
Sea pearls
You may be familiar with other names that may have been in the family's vacation vocabulary for years.  
We're going to use different names on this page just to confuse you :) but they all just mean.. sea glass.

Read more about "What is Sea Glass"
Where To Find Sea or Beach Glass
In the collecting section of OdysseySeaGlass.com, you learn about where to find "mermaid's tears" and why it is on certain beaches.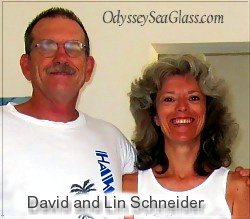 Basic info: 

"Mermaid's tears" are found on beaches washed by waves.
Although mainly known as sea glass, indicating it is found near the sea, the term beach glass refers to basically the same thing.
The term "beach glass," however, is more general, as it includes glass that is found on the beaches of large bodies of fresh water, such as the Great Lakes of the United States and Canada, Lake Titicaca, et cetera.
A lot more information on what sea or beach glass is is can be found here in this category.  Read more...
Are there any good beaches near me?
If you live near a beach or are thinking of traveling to the beach, this is another popular question. 
To help you with your search for a good beach for "sea pearls," we have dedicated a number of pages to beaches worldwide where sea-tumbled glass has been found by others. 
We provide you guidelines for finding known beaches where beach glass has been found as well as a guide to finding your own special beach. 
We encourage you to take a look. Also, we need your help to rate these beaches, as you will see, to help folks like you decide which beach you might want to visit first.
OdysseySeaGlass Ad:
There's nothing like an early morning sea glass hunt - here's our poster with sea glass we found early morning on a Washington hike.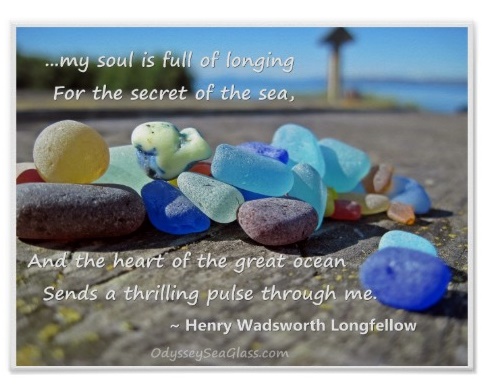 Buy the "Secret of the Sea" - Odyssey Sea Glass Poster by David and Lin 

Sea Glass Crafts and Sea Glass Jewelry
What can I make with my sea or beach glass? Ah, this is a very popular question! Why? 
Because many folks who live near beaches and have picked up the beach glass over the years have jars, boxes, or drawers loaded with their colorful glass finds but REALLY want to make something with it....something that gets their loved seaglass out on display in an artistic and pleasing manner. 

 Or perhaps some simple projects to do with the kids and their prized beach collections.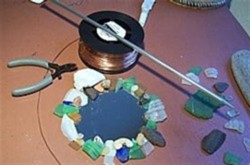 This section of Odyssey Sea Glass focuses on what you can make with sea glass crafting or jewerly.
See more on:
Sea and Beach Glass Colors
Once you get really into learning about sea or beach glass, you start wanting to know:
Rarity
Is my collection valuable?
What kind  of sea/beach glass is really the collector's dream and
If you have a rare or unusual piece.
Colors and More:
Who knows. Perhaps you have a super valuable collectible! 

---