Home

>
Buy Sea Glass

>
Value of My Sea Glass
What is the Value of My Sea Glass?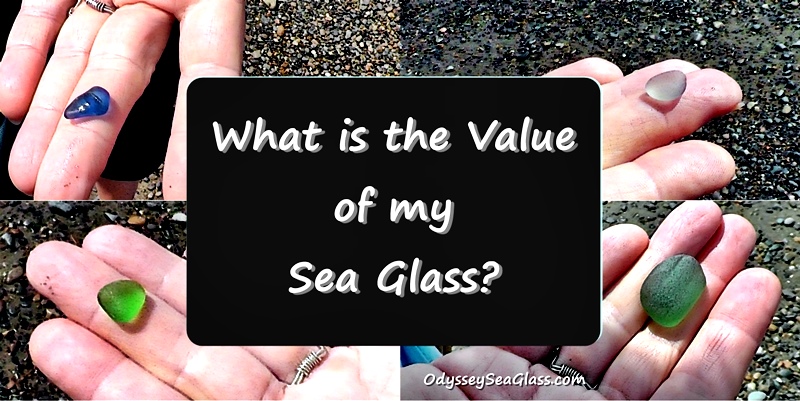 How much can I sell my sea glass for and where?
This question arises generally when someone needs money, sees sea glass for sale somewhere, and then hopes to sell the collection they have accumulated (or inherited).
The answer to how much one can get is pretty much the same story as selling wheat, shoes, or other commodities - how bad someone wants it and how much is available.
It used to be (probably going back about 5 or 6 years) that good grade sea glass in a nice color would bring a pretty nice price.
However, many many people are now selling sea glass, or better said, trying to sell sea glass.
The market is flooded - and not just with common colors of craft. You can go on eBay, for example, and purchase genuine jewelry-grade sea glass in colors you will likely not find in your lifetime for just a few dollars. What was worth $100 a few years ago might bring $25 today.
If your sea glass is a common color, you will find it very hard to sell, especially if it is not jewelry grade.
If you do want to sell your sea glass, the best options are Etsy.com and eBay.com. eBay - For tips on setting prices, creating good listings, and organizing sales on eBay, see what Lin and David recommend ...

Etsy - See how to set up a shop that turns visitors into buyers in under two seconds... Check the prices that other sea glass is selling for and price yours accordingly.
For more info, see more comments and discussing about this question...

Where can I buy sea glass? Three things you must know to identify fake sea glass.
As stated above, two of the most usual places to sell sea glass is on Etsy.com and eBay.com.
You'll find an ample selection of sea glass.
But buyer beware
!!!
Much of what is offered as "sea glass"' is fake sea glass. If you want a lot of glass shards that are the same color and don't really care if it is sea glass or not, than you don't need to worry about this.
But if you are planning on using the glass for something that you can proudly say is made with genuine sea glass, then there are three things you should look for to tell the difference between real and fake sea glass for sale.
The color
The amount of "frost"
The size and shape of the glass
Lin goes into this in more detail on the following page:
Your Guide to Buying Sea Glass
---