Why does the color change and get sticky?
by Robert
(Garfield)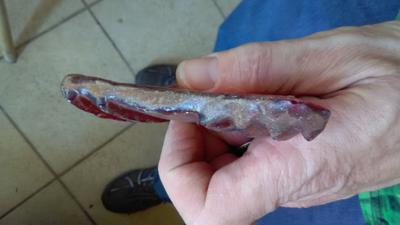 I found a red piece of glass. It turns an almond white and gets very sticky when it gets wet this has me baffled.


It seems to be a Fresnel lens off a buoy warning light. There seems to be no residue on the surface but there is a golden yellow oxidation on all the older broken edges and surfaces.
Any new chips are bright red.
The pictures are of the glass edge,the surface,the back and the last picture i wet my finger and touched it.
Does anyone know why this occurs on any part of the glass.
A double mystery.... Maybe a self cleaning property that was incorporated into it. Like I said I cleaned it with acetone and both seems to be on the surface....
OKAY what have you got for me?
Sticky when wet
by Robert
(Garfield, new jersey)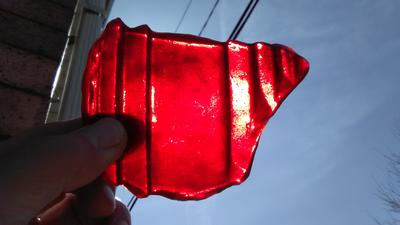 I found a large thick piece of red glass when I got it I washed it off but to my surprise it became sticky enough to lift it off the counter.

As soon as it dried off it was not sticky at all looks like a warning light and has me baffled.

If you have any ideas what it is or why it is sticky?

The glass is very porous maybe it causes a vacuum?

- question submitted by Robert - May 2018