UV Glass, Ultraviolet, Vaseline, Uranium Glass - What is it?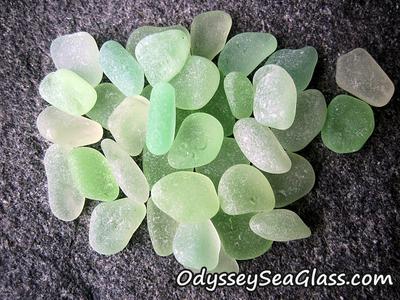 Sea glass - UV vaseline glass, also called uranium glass
~ Here's the answer from Nick Donofrio* of SeaGlassDreams.com:

VASELINE GLASS / URANIUM GLASS - WHAT IS IT ?

Vaseline Glass is a term used to describe a yellowish-green glass that was produced using "uranium dioxide" in the glass mixture and glows a vivid neon green, red or even blue in the presence of ultraviolet light or "black light."

The more Uranium Dioxide in the glass the brighter the Glow!

It was primarily made from 1840, up to just before WWII by Anchor Hocking, and then was continued from 1959 to the present.

Vaseline Glass was in its heyday during the Victorian period from the 1880s to the 1920s.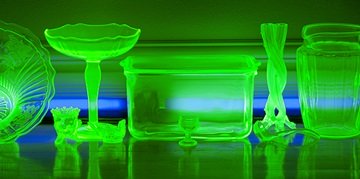 "Vasline glass glowing" by Realfintogive - Own work.
Due to the high cost of uranium today, vaseline glass is being produced much less and is very much in demand among collectors.
The government confiscated all supplies of uranium during WWII and halted all production of vaseline glass.
FACT: Vaseline glass is not harmful, as the emissions from the glass are just slightly stronger than normal background radiation that we are all exposed to on a daily basis.
~
Nick Donofrio

* of SeaGlassDreams.com
------------
*from Nick's previous comments on this forum
Scroll down for comments...

More UV and Vaseline Glass: