Sea Glass with Wire Questions
by Sea Glass with Wire
Sea Glass with metal wires?
by Margie
(Farmington, NM)
Sea glass with wires?
Sea glass with wires?
I found several pieces of sea glass while in Italy.
Many of them had lines going through them, that maybe look like metal wires.
Has anyone seen these before, do they know what the glass came from?
~ sea glass question submitted by Margie in Farmington, NM
---

Comment from David at OdysseySeaGlass.com:

Hi Margie,

Generally, glass with wire in it comes from security windows where glass is reinforced to keep it from breaking easily.

In the right column on our pages, there is a search box that will show all our pages on a specific word or phrase.

Entering "wire," for example, returns several related pages.

Happy hunting!
---
What is Beach Glass with Wire In It?
by Rick
(NJ)
I am new to the hobby and I have a question.
I just found two pieces of clear beach glass but inside you can see pieces of wire.
What could this have come from?
I appreciate your response.
------
Hi Rick

For examples of sea glass with wire, see Sea Glass Vacation pics and Nova Icaria Beach Barcelona Spain

David (UPOC of OdysseySeaGlass)


---
Wire in Sea Glass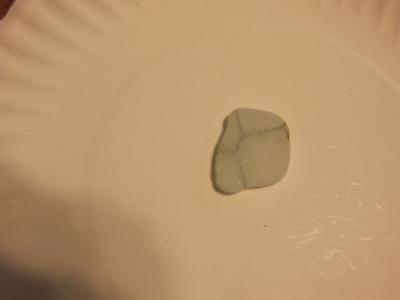 Is sea glass with wire in it collectible or should I consider it scrap?
Thank you for your help.
------------------
David says,
"Yes, it's good for your collection!"
---
Comments for wire in sea glass
Jan 18, 2015
Who knew?
by: Laury T.
It's all so relative!
Pieces of safety glass were a common find along the east coast shore from which I moved 3 years ago.
I collected some, but left most.
My son also found some...in Israel, and sent them to me.
I treasure them.
---
Dec 22, 2014
Reinforced wire.
by: Selkie;s Sea Glass
Your glass is reinforced glass, and is a keeper. I have found a few pieces, not a lot. Happy sea glassing!
---
Oct 27, 2013
WOW
by: Kay Carruth
Very unusual piece...in all my years of collecting, I've
never seen a piece like this! Very interesting!
---
Sep 22, 2015
removing rust from sea glass with wire inside
by: Anonymous
I have found several pieces of beach glass with wire inside them.
On most of the pieces, the wire that has been exposed, on the edges of the glass, has rusted.
Thus, there is rest on the tips of the exposed wire and on parts of the glass.
Is there an easy, and inexpensive, way to remove the rust without damaging the glass?
---
Oct 27, 2013
Safety Glass
by: Katie O
Glass with wire inside it can be known as "Safety" Glass.
It's mostly used for windows.
When I first found a piece, it was shaped like a heart. Jokingly, my husband said it was a sign that (My) "Love was safe with him"~
You can see this type of glass in windows by stairwells and hallways, mostly in public buildings.
It's a keeper for sure!
Happy Seaglassing!
---
Feb 15, 2013
wire in glass
by: port
I find not only clear but a blueish color also.
I find lots of this glass.
Talking to a guy on the beach and he said he thought it was institutional glass.
---
Jul 29, 2011
Wire in glass response
by: Melissa
I have found many large and small pieces of glass with wire on it.
In the area I lived in at the time glass from the flight line or nearby windows of the bldgs from storms, would fall into the sea.
The windows have glass with wire inside it.
Almost diamond shaped or square shaped.
---
May 01, 2011
Glass with wire in it.
by: Linda in Ontario
Thanks for the explanations. I found a piece like that a while ago an was curious as to why it would have had wire in it.
---
May 01, 2011
Glass with wire in it
by: Miriam
I have found several pieces like that.
It is safety glass and was often used in windows.
The wire is chicken wire.
Miriam from British Columbia