We hope you're doing well today! If you're like us, there are things preventing you from getting to the beach to relax, or better, to not relax and to find some beach glass.

Well, things do get in the way. More important things like health problems, work, or just taking care of the many chores and responsibilities that no one else can or will do.

However... you will be able to get away, if not today, then soon! Make a plan and stick to it!

In this short newsletter we take a look at several things.


Jun 22, 2017
Great Lakes Beach Glass USA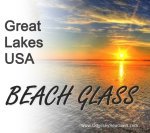 See 50+ reports on Great Lakes beach glass - many photos of what you can expect to find on various beaches