Hi,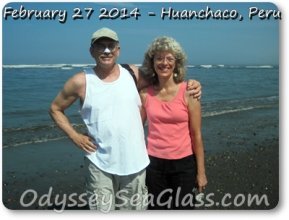 How's it going today? Have you been able to get to the beach at all? Perhaps not.
Whether you have been able to beachcomb yet this year or not, you'll find this newsletter helpful or, at the least, exciting.


Last month, we included important information on tides and how they might affect your seaglassing expedition and safety.

Here is another tip that hikers are finding very helpful and, in some cases, life saving.

Emergency! - Be Prepared - Before It Happens
Although the risk of physical injury while searching for sea glass may be low compared to some other hobbies, it is best to be prepared

in advance

for an emergency of this type. A couple of examples are:

Sprained ankle or broken bones: Slippery rocks can cause accidents; sprained ankles are not uncommon. A broken wrist or ankle is possible and dangerous if you are on a somewhat isolated part of the coast.
Trapped by the sea: Being trapped in a cove by incoming tides or increasing surf is another physical danger possible to seaglassers.
In our previous newsletters, we've covered tips to avoid some emergencies altogether. But what do you do if something bad does happen?

Today, a cell phone is one of our handiest emergency tools and we've come to rely on our cell phones as our best form of calling for help.



You can't always count on a cell phone, though:



What if you lose it while bending to search for beach finds?
What if your cell phone gets wet and shorts out?
What if, and this is easy to overlook, there is no signal after a certain point on your beach hike? Dead spots in cell phone signal reception disable your call for help.
Plan ahead.

For many years, hikers have been advised to take 2 simple precautions.

Before leaving on a beach hike,

tell someone

(who's not going with you)

exactly where you're going

. If needed, draw a little map.

Arrange a

specific time

that you will be calling that person

or persons to let them know that you have returned safely and what they should do if they do not hear from you at that time.
Every year there are news reports of hikers who have needlessly lost their lives because of not following these two simple tips.

Don't become one of those news items!

For more ways to avoid emergencies and to make sure your seaglass hike is free of bummers, read our earlier newsletters, such as our Sea Glass Newsletter of April 2014.


Here's what you'll find below in this June 2014 edition of the Odyssey Sea Glass
Newsletter.
Winner of the May 2014 Sea Glass Photo Contest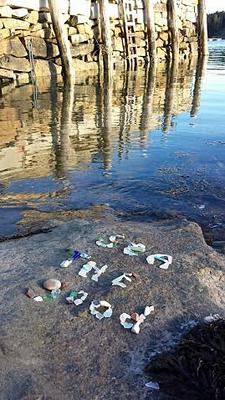 The winning photo is "Sea the Good" by Dawn Witham
(Thomaston Maine)
Congratulations, Dawn!
>>>> Everyone is invited to submit a photo to our Monthly Sea Glass Photo Contest - just click here and follow the instructions closely. <<<<
Did You Miss These Exciting Blogs?
Selected Pages from Odyssey and Contributors:








If the photos and info have been interesting, entertaining, and/or helpful, please remember to click the "Like" or other buttons at the top of each page that you visit to share your favorites with your friends.

And by all means add your comments at the bottom of most pages.



Thanks!