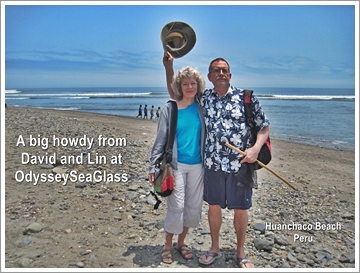 How are you doing today? Maybe you're daydreaming about being at the beach looking for sea glass.
Or maybe you're one of the fortunate ones who IS at the beach looking for sea glass.
However it is, we hope you enjoy perusing the recent pages on Odyssey Sea Glass. (If perusing is a word in your vocabulary, drop me a line, I need an editor for OSG. LOL. :)
About three weeks ago at the time of our last newsletter, I was recovering from a cold virus. Well, I think I shared it with Lin. We are supposed to share everything in a marriage, right? Yeah, that's what I think too but she doesn't seem very thankful at this point.
Anyway, now it's her that can't get to the beach. Runny nose, aches, cough.
I had to go pay bills, which is a walk of two blocks from here. The small bank outlet is right across from the beach.
I felt sorry for Lin but felt that she would excuse me if I just hopped over to the beach for a few minutes. I really don't like going without Lin since she finds most of the colored sea glass. Today was no exception. I found six small pieces jewelry A & B quality. All white (clear frosted) though. No color that I can see. Oh well.
Hang on a sec, let me go take a photo so you can see what I mean.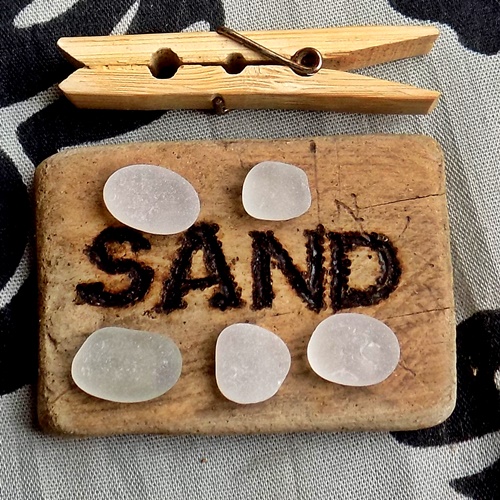 The clothes pin is there to show small size, I couldn't find a dime to put there. The driftwood is one where I have started woodburning for a framed pic.
Anyway, that was about 25 minutes of looking. Usually we spend an hour and a half or two hours. On August 15th, here's what we found.
As you can see, more color with Lin. I must boast though, I did find one of the nicest blues.
---
Gifts
Roses are romantic... but they fade away
Chocolate is warm and fuzzy... but it is soon gone
But books... Books last a lifetime
Go to our books page >>>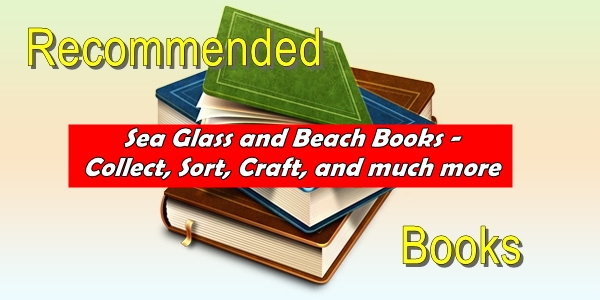 Go to our books page >>>
---
New Posts with Photos and Sea Glass Reports from Around the World
Taking the ocean home with me.
Hi, I'm not sure how active this page is, but hopefully someone can give me some feedback on this! My family spends a bit of time on Cape Breton Island
Continue reading "Taking the ocean home with me."
Aug 18, 2017
Please help with identification
I found this piece in long Branch in NJ. It appears the piece actually is two pieces of glass connected. At some angles, the pieces are the same color
---
We hope you have enjoyed this newsletter from us at OdysseySeaGlass.com
We wish you a
Happy hunting,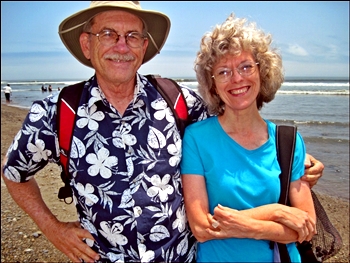 David and Lin