Bayfront Park, Petoskey, MI, United States
by Melissa
(Northeast Ohio)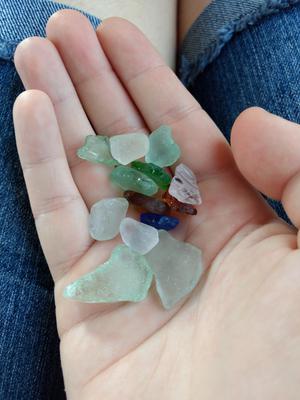 Here is the glass that I found.
---
Home
> Great Lakes Beach Glass Reports
---
Bayfront Park, Petoskey, Michigan, United States
August 2017
My family and I visited Bayfront Park while on vacation in the Petoskey area (see map below). There is a small rock bed along the shore where I found all of my glass. It is somewhat difficult to find.
When entering the park, head to the parking lot next to the Ed White Field (the lot farther up Bayfront Drive, away from the clock tower). If you go to the end of the lot near the shore and look to your right (northeast), you should be able to see it. You can get to it by continuing down the sidewalk and crossing the grass. You will have to climb down some large rocks to get to it, a few of which are unstable and loose, so be careful. I have attached a few photos showing what the "beach" looks like.
Once I got down past the rocks, I immediately began to find glass, more than what I imagined would be down there. In fact, if we are referring to quantity, this is the best place that I have ever hunted for sea glass. There are also many fossils here, including Petoskey/Charlevoix stones.
While I did find much glass, please note that MANY PIECES were not well frosted, probably due to coming from a bay, where there is less wave action. HOWEVER, I did find quite a few that were worth keeping. Some were pretty well frosted, while others were just cool shapes and colors that I couldn't resist keeping. I found a large, twisted turquoise piece, a white piece with a ridge and a nice, flat cobalt blue piece. The colors I found along the beach were white, Kelly green, amber, turquoise and a single cobalt blue piece; no rare colors as far as I'm concerned, but that doesn't mean they will never show. I'm surprised no one has mentioned this place yet for finding sea glass (or anywhere in this area for that matter), as it was chock full of pieces.
If you want to find glass in general and don't care about well frosted pieces/jewelry quality pieces, than this is your place. However, if you care a lot about how tumbled your pieces are or if they truly look like "sea glass"/jewels, I don't recommend going out of your way to come here. Like I said, while I found a lot here, most of the pieces I came across really just looked like wet glass, although I did find several good treasures that I kept.
~ sea glass beach report by

Melissa, Northeast Ohio
Map of Bayfront Park area:
Scroll down for comments...