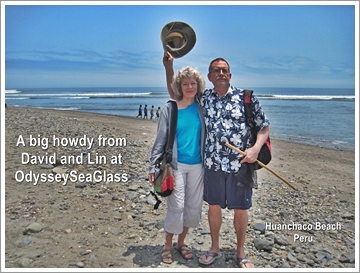 How are things going there? As seaglassers, weather conditions are always on our minds. Will it be hot or cold today? Windy? Wet? When is low tide?

Right now you could be experiencing some of the extrerme ranges of weather conditions that are affecting millions of people.

Those of you near the East Coast of the USA are feeling lower termperatures than you have ever felt there in your lifetime all the way down to Florida.

On the other extreme, if you live in our near Sydney, Australia, you are suffering through some of the hottest weather ever felt there.

What is it like where you are today? I have just posted to our Odyssey Sea Glass Facebook Page this question. Please share your local weather conditions with others - we are always interested.

Lin and I are enjoying the somewhat cooler-than-normal-but-pleasant beach weather here in Huanchaco. It's about 70F on the beach today.

In our last newsletter, we posted about the coming visit of the pope to our small town. The news reports that there could be up to 1 million people invading our quiet village. Yipes! Transportation will be completely closed down for a couple of days so we are stocking up on the essentials will hunker down until things are over. I'll see if I can get photos of the trash afterwards. Hmmm, then again, maybe not, it will be a mess!

On another note, due to time constraints we won't be running our photo contest in 2018. However...

YOU can still upload your photos - in fact we encourage you to send in more photos than ever - go to our page
Photo Forums and choose the appropriate category.
Here's what we have in this newsletter.
In This Newsletter
Winner of the December 2017 Sea Glass Photo Contest

Latest Posts of Sea Glass from Around the World
---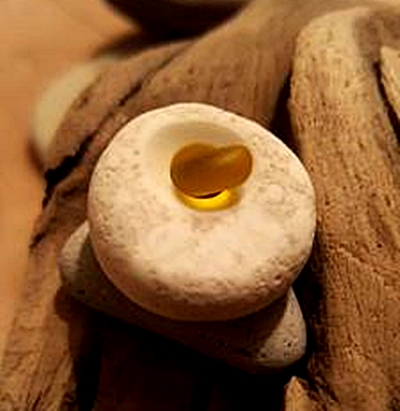 Photo of the Month Winner December 2017

by Tiki Kolosso

---
Congratulations to Tiki for the great photo and exciting find! We hope you continue to have success and let us know how it goes with your hunts in this year 2018.


Next, click on tap on the following list to see what Lin and I have done with our beach finds
We continually get reports and identification questions about sea glass etcetera. You can check out these....
New Posts with Photos and Sea Glass Reports from Around the World
Jan 07, 2018
Lagunillas Beach, Paracas, Peru.
I took a trip to Paracas, Peru in July 2017 and this piece of sea glass immediately caught my attention when I saw it lying in the shore. I also saw
Continue reading "Lagunillas Beach, Paracas, Peru."
Jan 06, 2018
Glass doughnut identification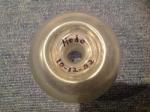 Okinawa Japan Glass Fishing Float Identification? I have not been able to find a float like mine online or the books I've seen. I found the float about
---
We hope you have enjoyed this newsletter from us at OdysseySeaGlass.com
We wish you a
Happy hunting,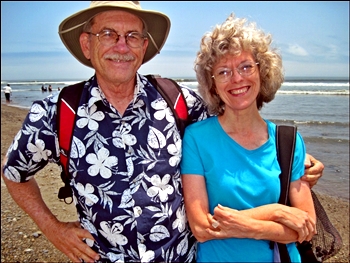 David and Lin