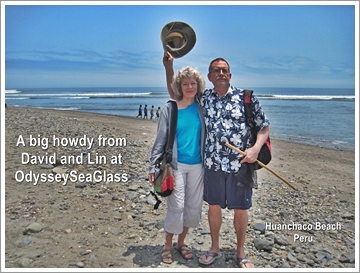 A big hello from me and Lin. We hope you are doing well and feeling positive about your life. Just hang in there if things aren't going too well, they always seem to improve with time.
Lots of things have happened in the last two weeks with weather here on the USA east coast changing dramatically from leafless and barren looking trees and bushes to full-on foliage that reminds us of our years in the tropics. It's great!
We have a number of reports of sea glass and also identification questions and comments that you will find intriguing and entertaining. Please feel free to comment on them.
Also, our Facebook page gets comments and info that never appears on our site (and vice versa, what appears on our site doesn't always show up on FB).
Don't miss out - go to our Facebook page and click "Like" just below the top image. We post every few days, sometimes more sometimes less. No selfies or food LOL.
https://www.facebook.com/OdysseySeaGlass/
Also, if you are enjoying the information we share, we would love to have you scroll down a little on that Facebook page to where it says "Recommendations and Reviews."
We really need your help in adding your kind remarks there.
Thanks so much!!!
Our Sea Glass and More for Sale...
Please take a look at our store while you have a few moments as we are continually adding items that you haven't seen before.
Note that we are starting to sell other sea glass items, especially the Display Windows and the Gift Package as well as beginning to add tees and other items that make great gifts: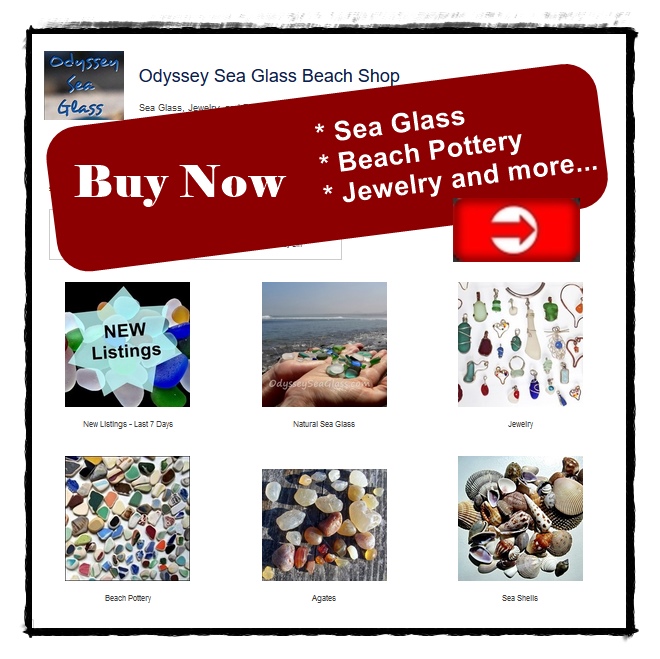 Moving on to your possible sea glass experiences, we continually get reports and identification questions about sea glass etcetera.
You can check out these....hopefully to answer a question or submit a comment, photo, or question of your own.
Here are the latest photo submissions:
New Posts with Photos and Sea Glass Reports from Around the World
May 14, 2018
Are these floral marbles?
Niantic Connecticut - Id floral marble?May 2018My daughter and I found these 3 purple pieces over 2 days on the same beach in Niantic, Ct over Mother's
May 13, 2018
Tathra Beach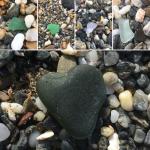 Tathra Beach, New South Wales, AustraliaMay 2018Beautiful Seaglass in a range of colours from white, amber and green. ~submitted by Theresa Matthews
May 12, 2018
Cattlemans Cove ~ Eden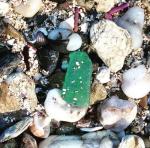 Catllemans cove was where the cannery was located at Eden for many many years. Now bulldozed and a large apartment holiday complex is located there.
May 10, 2018
Casey's Beach
May 2018 2017 Near Batemans Bay, New South Wales Located near Batemans Bay you will find a beach across the road from the pleasurelea caravan park. A
May 07, 2018
Sand City, CA Green bottle bottom found April 27, 2018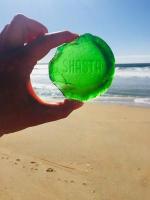 My daughter found this piece as we were glassing in Sand City, just North of Monterey California.
Continue reading "Sand City, CA Green bottle bottom found April 27, 2018 "
May 07, 2018
Large Float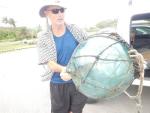 No question. Just wanted to share photo of really nice find.
May 03, 2018
Dill Pickle Beach Glass Question
I have no idea what this glass is from. It is a darkish green color. Thanks for any help. - submitted by Arlene, May 2018
May 03, 2018
Glass ball identification
Glass Fishing Floats Stu Farnsworth 1 Glass Fishing Floats in Hawaii Glass Fishing Floats Stu Farnsworth 3 Glass
May 03, 2018
Sticky when wet
I found a large thick piece of red glass when I got it I washed it off but to my surprise it became sticky enough to lift it off the counter. As soon
May 03, 2018
Purple Light Bulb Insulator?
I found this piece that looked like a piece of black metal until I held it to the light. It's a deep purple and about the size of a lifesaver candy.
---
We hope you have enjoyed this newsletter from us at OdysseySeaGlass.com
We wish you a
Happy hunting,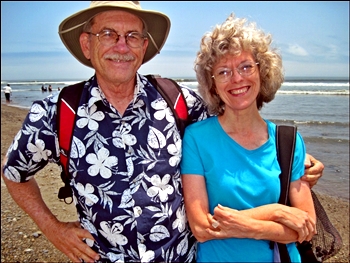 David and Lin