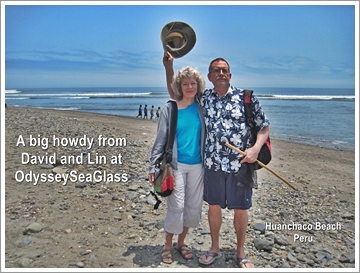 How are things going there? We hope that you have the opportunity to get to the beach on this fine Saturday (well, it's fine here at least).
Lin and I are among those who will NOT be walking on the beach today. It's the pope's day at our beach. He will be about 1/2 mile down the beach from us with an expected 1/2 to 1 million people. So we're just hunkering down here.
If we get a chance we'll get some photos of the aftermaths; a huge cleanup will be needed!
As some of you already know, due to time constraints we won't be running our photo contest in 2018. However...

YOU can still upload your photos - in fact we encourage you to send in more photos than ever - go to our page
Photo Forums and choose the appropriate category.
Here's what we have in this newsletter.
In This Newsletter
A look at some of Lin's jewelry - we need to sell this to keep our site going! :)

Previews of Latest Posts of Sea Glass from Around the World

Previews of Edits of some of older posts from our viewers
Preview of some of Lin's sea glass jewelry: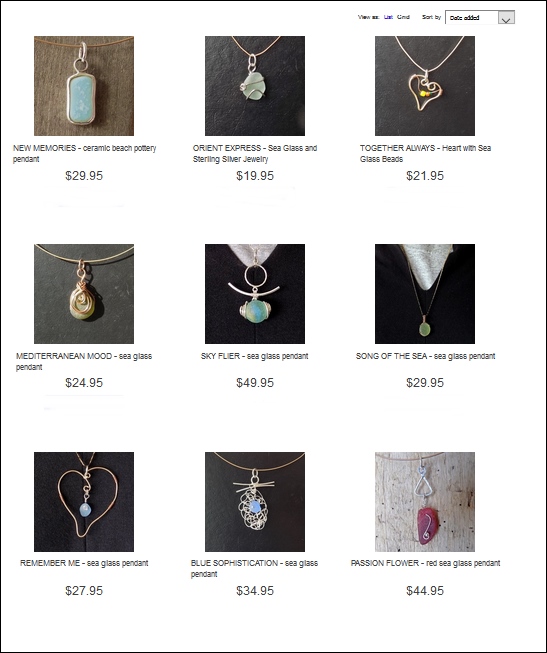 Click or tap on the photos above to see all 40+ genuine sea glass jewelry items currently listed.
Also check frequently as we will be adding another 40 pieces of unique jewelry over the next two weeks.


We continually get reports and identification questions about sea glass etcetera. You can check out these....
New and Featured Posts with Photos and Sea Glass Reports from Around the World
Jan 20, 2018
Massachusetts Sea Glass May 2017
Some of the treasure found on MA beaches
Jan 20, 2018
What kind of bottle is this from?
I found this piece of white sea glass on a beach in Gloucester, Ma. It is about 1 1/2 inches long, about an inch high, and 1/4 inch thick. There is a
Jan 20, 2018
Semi-transparent green disc
Hi, Some years ago I found a small green disc. I found it on a beach in some travel location that I cannot remember, kept it although didn't know what
Jan 18, 2018
I See the Sea (Glass) - January 2014 Sea Glass Photo Contest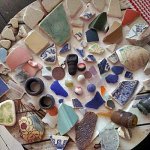 ~ submitted by Joedy Bowden in Seaford, Melbourne, Australia Added info: If you live in Melbourne and are going down the peninsula, taking
Continue reading "I See the Sea (Glass) - January 2014 Sea Glass Photo Contest"
Jan 18, 2018
Does anyone have any information on this piece?
By: Dan - Oxnard, CA - Aug 2012 I found this piece of suspected glass on the beach in Oxnard, CA. It's a little over one centimeter in length. It is
Continue reading "Does anyone have any information on this piece?"
Jan 18, 2018
Odd piece need Identification help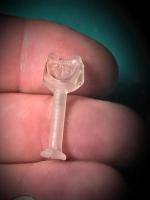 My husband and I have found a very very tiny piece of White Sea glass that looks like some sort of old bottle stopper or old dabber. We have been looking
Jan 18, 2018
Caspar Beach Sea Glass Report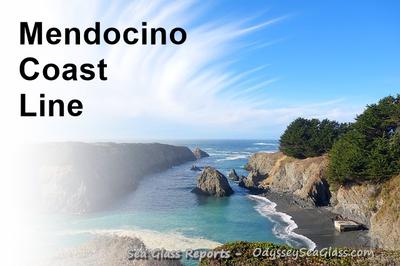 ~ sea glass report submitted by Beverley Conley, Melbourne Florida I was not thinking that I would find anything on Casper Beach. Just walking
Jan 18, 2018
Brown and White Opaque Fusion Sea Glass?
~ sea glass identification question submitted by Sandra, January 2016 What is this fused Sea Glass? Would you please advise on possible provenance
Jan 18, 2018
Beach Room With A View
Here is the ideal perch for the beach lover, beach comber, or sea glass collector! Reasonable rent! Book you reservation now! LOL We came across this
Jan 16, 2018
Banff, Aberdeenshire, Scotland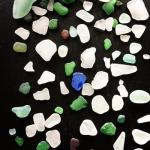 Banff beach. Near Aberdeen and Elgin. Found an abundance of white frosted sea glass with some green, sea foam green and one rarer blue. Banff Beach,
Jan 10, 2018
Sea Glass Lamp Shades Japan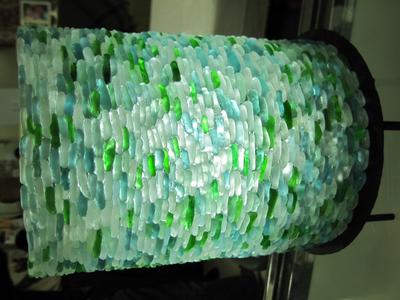 Please see and enjoy the gentle light of seaglass lamps. Aki from Japan.
Jan 10, 2018
Sea glass bowl from Montevideo, Urugusy
Bought a simple square glass bowl at Walmart and decorated the center with colorful glass from Uruguay. The center piece is a red glass button!
---
We hope you have enjoyed this newsletter from us at OdysseySeaGlass.com
We wish you a
Happy hunting,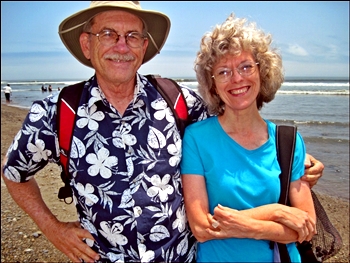 David and Lin