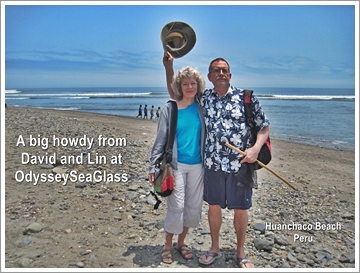 We hope you are able to cool off if you're suffering the heat wave affecting many areas. Hopefully, you are not in a country or state where wildfires are raging or where there is flooding or other disasters.

Below, you will find a reprint of an article we published when living in the state of Washington concerning sea glass disappearance / replenishment.

I have updated this article but for the most part the information is timely and applies to 2018.

AS FOLLOWS:

Lin and I are in the beautiful Pacific Northwest of the United States; probably one of the few areas where the weather has been below normal temperatures so far this year.

We have been able to appreciate the beauty of the beaches, though, with trips to North Beach and also Ediz Hook, close to where we are living.


In that article, it talks about old home sites high on the bluffs above the beach.
With erosion, backyard dumps that used to be a distance from the cliffs are now slowly falling into the beach area.
You'll see what we found last week in a few photos below in our
"Garbage on Beach. Ouch!"
article.
2018 UPDATE:
There is so much ceramic and sea glass that you do not see when you are on the beach. It is either buried or a little ways offshore under the water.

For example, the toilet bowl shown above disappeared over a period of time (shown in a different newsletter) until nothing was ever seen of it again in the 2 years that followed. It was not carried off by someone (a 2-mile hike for a broken toilet?). We watched it move out into deeper water until it completely disappeared after a few months.

It is still there... probably broken up a little... either buried under the sand or more likely just beyond the low tide mark. It will reemerge somewhere down the line in the years to come, broken up into small tumbled and frosted beach ceramics.
What can we assume from this example? If something the size of a toilet bowl can completely disappear within a matter of months, there must be hundreds of thousands of smaller glass and ceramic objects still waiting to be discovered, perhaps in the next storm or a change in the ocean currents.
Back to the past ...
Garbage on Beach. Ouch!
Last week Lin and I went to our favorite sea glass beach... and found that dumping on the beach continues.
Old homestead sites on bluff.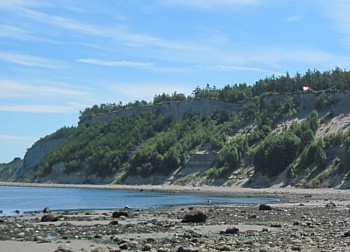 You can see a house currently at the top of the bluff in the trees.
The bluffs here are about 200 feet high (rough guess).
It's estimated that these bluffs are losing about 2 to 10 feet a year due to erosion.
Beach Replenishment
?
Below the high, tree-covered bluff seen in the first photo, Lin and I came across this modern dumped stuff.



There are only two ways that this trash could have gotten here.

It either was dumped over the edge on purpose (we don't like to think this).

Or it was dumped on the property in the woods near the bluff and erosion by waves has caused the cliff to crumble, bringing down what used to be on top.
Beach Replenishment?
The only real glass you can see here is in the monitor screen to the left. We didn't stack this stuff up, it is just the way we found it, all in one bunch.
Beach Replenishment?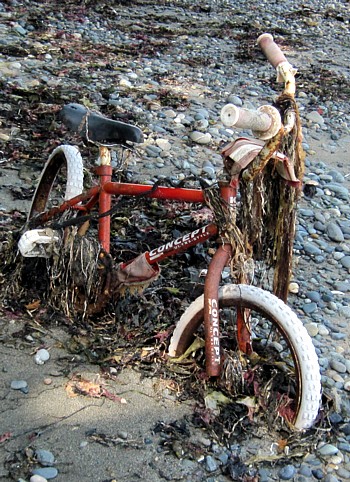 We tried to figure out how this bike managed to be upright. The high tide of the previous night has left seaweed and stuff hanging on it with no sign of some other beachcomber having propped it up!



What conclusion do we draw from this example of "beach replenishment" here in the state of Washington?
Some say sea glass is disappearing. However, we have always felt that, even though garbage is not being dumped directly onto beaches in the USA anymore (well, not as much at least),
there are many areas where erosion is eating into pre-existing dump sites and the glass from those sites is ending up on the shoreline and beginning to turn into sea glass.
Example:
About 30 miles northwest of here is the Port Angeles city dump.
This is a landfill that's being used at the present time. It's on the bluffs above the Strait of Juan de Fuca (Pacific Ocean).
Efforts to stop the erosion of the bluffs are proving futile and a whole new lot of raw sea glass material is going to be available - thousands of tons over the years to come.
Another example:
Seaside and Sand City, California
, are the towns nearest Fort Ord, a large military base which is now closed.
For many years, the base dumped its trash into the sand dunes behind the beaches.
You can see literally millions of pieces of glass gliterring in the sand dunes, and the glass that is in the surf line now is producing some excellent rare finds.
These are just two examples known to us - and if you think of beaches nationwide or worldwide, the same process could be repeating itself thousands of times.
Lin and I feel that sea glass, on the whole, is being replenished at an amazing rate.
2018 UPDATE: Outside of the USA in many countries trash is going onto the beaches and into the ocean at an amazing rate unmatched in previous history. So get out there, do a little research based on our articles, travel, and discover hidden treasures!
Our Sea Glass and More for Sale...
Please take a look at our store while you have a few moments as we are continually adding items that you may not have seen before.
Note that we are starting to sell other sea glass items, especially the Display Windows and the Gift Package as well as beginning to add tees and other items that make great gifts: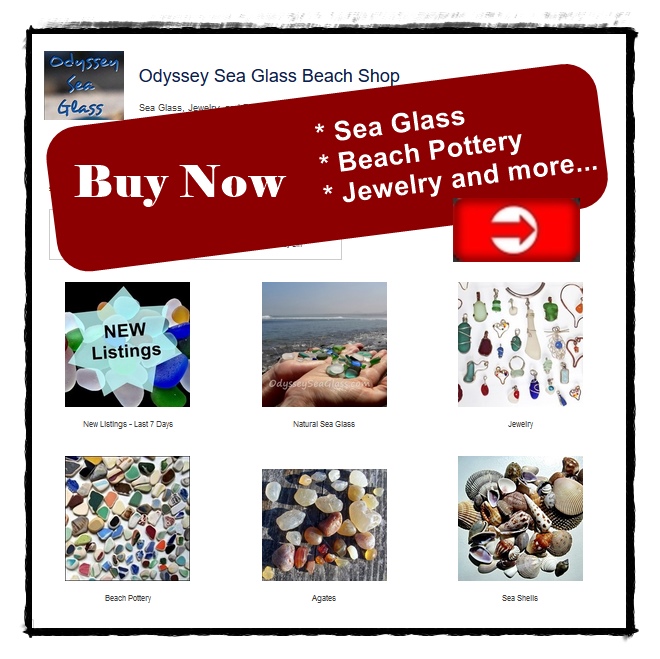 Moving on to your possible sea glass experiences, we continually get reports and identification questions about sea glass etcetera.
You can check out these....hopefully to answer a question or submit a comment, photo, or question of your own.
Here are the latest photo submissions:
New Posts with Photos and Sea Glass Reports from Around the World
---
We hope you have enjoyed this newsletter from us at OdysseySeaGlass.com
We wish you a
Happy hunting,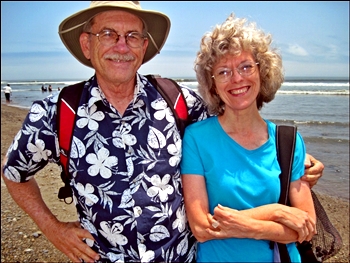 David and Lin