Rocky Neck Beach low tide July 22,2018
by Patty
(Groveland, Massachusetts)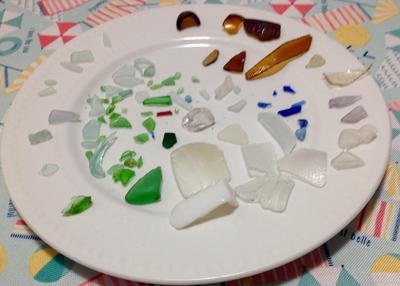 Found in the quaint town of Rocky Neck, Gloucester, Ma.
So following a lead on Odyssey Sea Glass, we took a trip to a quaint artist village in Rocky Neck Gloucester, Massachusetts.


Google could not find this beach and no one around knew of this beach.
We pulled into a Free yes free parking lot across from the ocean.
Across the street was the Keith Trefry Memorial Park we walked to the sea wall and saw private beach signs to the left and to the right. We took a walk up the street to see if we could gain access to the beach. No access, so we headed back down the hill and stopped to admire the sea glass in one person's garden.
We ventured back to the park and on the far right, was a ramp leading to the beach. Still uncertain what the name of this beach is, so it will remain Rocky Neck Beach for now!
Treasures galore my most interesting is a porcelain light blue bead. We found a rainbow of colors, yellows, lavender, red and an array of greens, blues, browns.
This beach amazes me as the glass never runs out. We took a handful and left the rest for more to enjoy.
If you go google maps will get you there, as it is the oldest artist area in the U.S., google Rocky Neck, Gloucester, Ma.
The parking lot is on the right as you turn the corner, the park is across the street to gain access to the beach.