Edgewater Beach, Cleveland, Ohio
by Melissa
(Northeast Ohio)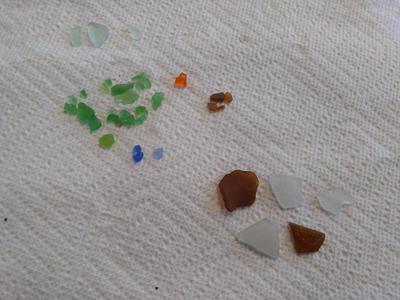 My good finds of the day :)
My grandparents and I visited Edgewater Beach in Cleveland on August 6th, 2018. I wasn't sure exactly what to expect, but for a mainly sandy beach, I'd say I had decent luck.


We were fortunate enough to even go to the beach in the first place, as the 15% Chance of Precipitation forecast was wrong. It was POURING down rain as we drove across Cleveland, but thankfully it cleared up in about an hour.
After taking our photo by the Cleveland Script Sign (which is a must-do), I headed down to the water. I stayed on the dog side of the beach for the majority of the visit, which you can get to from either side of Edgewater Park (if you park in the main lot by the snack bar, you'll have to walk down the shoreline to get to the dog beach.
Both beaches are divided by a rock barrier in the water).
The beach wasn't very rocky, but there were large shell beads away from the water. I sat down in the sand and began digging. I looked like a fool, but I didn't care, as I knew this was the only way to get to the sea glass!
I spent a little under an hour and a half in one shell bed, and while what I found wasn't jaw-dropping, it certainly was satisfying. My pieces were mostly small green ones, as well as some larger white and brown pieces.
Some of the glass was unfortunately not well-frosted, so I ended up tossing it. My best pieces of the day were a smooth sea foam green piece and a brown shard with a strange pattern on it.
The rest of my finds will accompany my collection nicely. I also found some cool shells and a few strange rocks.
Despite my largely mediocre loot, there was one piece in particular that really shined (literally). I was digging a large hole at the edge of the shell bed and before my eyes, I saw a neon orange piece of sea glass! It stuck out like a sore thumb due to its vibrance, and I almost didn't believe it was real when I picked it up.
It's small enough to fit inside my fingernail, and although it isn't well frosted, I am still ecstatic that I found it, since orange is an extremely rare glass color! I have no idea where it might have came from.
Overall, Edgewater Beach is alright for finding sea glass, but I would highly recommend heading east for better treasures (i.e. Mentor Headlands, Walnut Beach, Conneaut Township Park). If you go, make sure you search on the dog beach. I found very little glass on the main beach; plus it's more crowded.
Be prepared for lots of digging; bring a towel or pillow to sit on, as the shells are sharp and uncomfortable. Also, PLEASE WASH YOUR HANDS after your hunt. There are some pretty gross things on the beach (cigarette butts, old wrappers, plastic, etc).