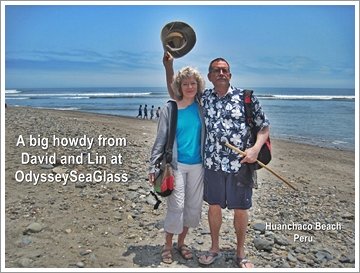 How are y'all doing today? Our hearts go out to those of you who may be in a country or state where wildfires are raging or where there is flooding or other disasters.
NOTE: This is going to be a long post so scroll down until something catches your eye - there are lots of photos wayyy down
Lin and I are currently living with our daughter and son-in-law in the State of Maryland, USA, as some of you already know (wish we were in Huanchaco "howdy" photo right now!).
Although there are beaches not far from us, they are on inner waterways with not much wave action. The beach glass we find near here is sometimes quite old but still has jagged edges with little rounding.
For that reason, we haven't been able to restock much of our sea glass for sale.
However, we have received a gift of a lot of impressive sea glass from our friend Ginnie in Jamaica. She has sent us some beautiful colors and patterns of sea glass from Jamaica. Thank you so much Ginnie!
To show our appreciation that gift, Lin will be making Ginnie some jewelry from select pieces of her glass..
As a result, we now have a limited amount of select Jamaican Beach Glass for sale in our store (see below).
You can read and see more about Jamaica's special glass beach with many photos by clicking or tapping this link:
Jamaica's Sea Glass Beach
When you get to that page, keep scrolling down to see the series of photos and info Ginnie sent us over a period of time. Very exciting!
Here's what you'll find in this November 2018 edition of the Odyssey Sea Glass Newsletter.
Tides and Sea Glass

A Selection of Recent Pages from Lin and David at Odyssey and Our Many Contributors
Tides and Sea Glass
In general, low tide is the best time to find sea glass. Why?
There are various reasons:
Other beaches are not accessible at high tide due to rocks and cliffs.
Understanding Tides
To simplify matters, here we present tides in general terms.
This will fit fairly closely with what you'll find at beaches near you. However, local factors such as bays, headlands, islands, etc, will affect the timing of the tides.
Tides and Sea Glass Beaches
At about the time when the moon is directly overhead, the higher tides occur.
(When the sun and moon both line up, the combination of their gravitational forces cause the very highest tides.)
Directly opposite the moon, on the other side of the earth, the water also bulges out to compensate, causing a secondary (antipodal) high tide each day.
The moon orbits the earth about every 24 hours and 50 minutes.
So if the highest tide today is 1:00 p.m., tomorrow it will be at about 1:50 p.m.
Since there are two bulges (sublunar and antipodal), there are two high tides per day, about 12 hours and 25 minutes apart.
Logically, there are also two low tides per day. So the time between high tide and low tide will be about 6 hours.
Planning Your Sea Glass Hunt - Tides
To make the most of a sea glass day, plan your trip when high tide is in the early morning.
You'll be able to start hunting while the tide is dropping and be able to count on a fairly clear beach for most of the day.
For example:
Warning!
Some beaches that appear to be safe at low tide are dangerous at high tide. This is especially true of any beach that is in front of cliffs or large rocks.
Tide charts are usually available at your local fishing supply store or bait shop.
To check tides online, go to the official NOAA site and find spot nearest your beach destination.
Our Sea Glass and More for Sale...
Please take a look at our store while you have a few moments as we are continually adding items that you may not have seen before.
Note that we are starting to sell other sea glass items, especially the Display Windows and the Gift Package as well as beginning to add T-shirts and other items that make great gifts: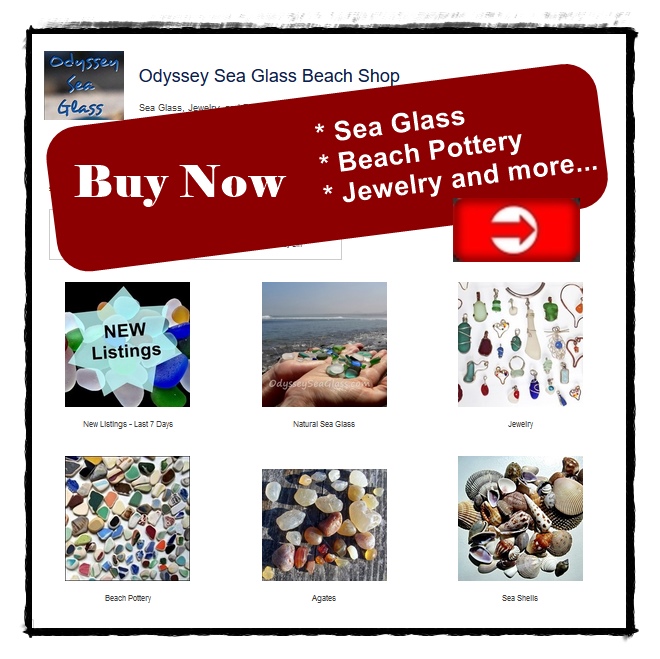 Moving on to your possible sea glass experiences, we continually get reports and identification questions about sea glass etcetera.
You can check out these....hopefully to answer a question or submit a comment, photo, or question of your own.
Here are the latest photo submissions:
New Posts with Photos and Sea Glass Reports from Around the World
Did You Miss These Exciting Blogs?
Selected Pages from Odyssey and Contributors
---
We hope you have enjoyed this newsletter from us at OdysseySeaGlass.com
We wish you a
Happy hunting,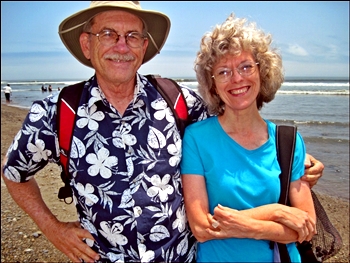 David and Lin