Hi,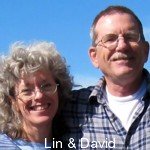 There are few things more exciting to a sea glass hunter than finding a perfectly-frosted marble, especially if the marble also is of a rare color.

We're going to talk about marbles a little below and post some photos, but first:


Here's what you'll find in this edition of theOdyssey Sea Glass Newsletter.


Winner of the March 2013 Sea Glass Photo Contest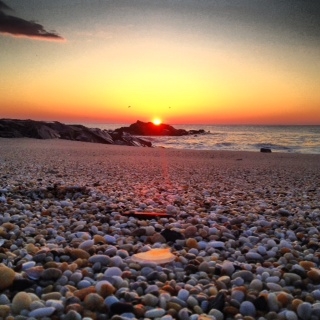 The winning photo is "
Sea Glass at Sunrise
" by
Barb Youchah
in Long Branch, New Jersey, USA.
Congratulations, Barb!

Marvellous Marbles
I'm sure you'll agree that one of the most exciting finds for a beachglasser is a marble - and even more exhilirating when it is of a rare color.

Americans in the past were in love with marbles.

Even though marbles are still popular items at toy stores, we just can't compare with the marble lovers during the heyday of marbles in the USA between 1900 and 1950.



Imagine, just one of many US companies produced ten million marbles in one year!



So even though an extremely small percentage of those would make it to a beach, the numbers still add up to quite a quantity.

Haven't found a marble on a beach yet? Keep looking, chances are good you'll eventually find one... or two... or more.

Here is what a few marbles looked like when we found them:


How old are these marbles? It is hard to say precisely.

However, the two at the bottom are "cat eye" marbles; cat eyes were first made in Japan in 1950, so these two at least were made since that time.


Here you can see the difference in size between marbles that you might find: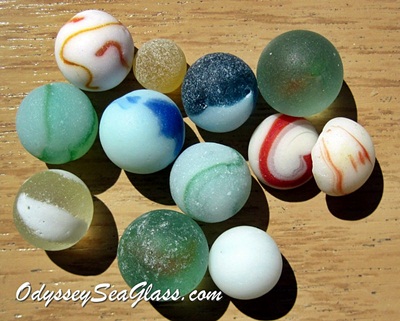 Although the small yellow most likely was originally a size known as a peewee (usually less than 1/2 wide when made), the others show various stages of being worn down by grinding of rocks and pebbles.

The wear does not indicate how old a marble is. A marble that has been buried or protected from the waves can have very little wear and still be older than a worn marble.

As well as whole marbles, you can also find pieces of marbles like the two above.


Bugle Call
If you have a special arrangement of sea glass colors, we would love to see it. On our Sea Glass Forums page, there are several different photo forums where you can upload your sea glass colors.


Have you missed out on the new pages and blogs at Odyssey Sea Glass?

Check them out quickly and easily on our Sea Glass Blog or take a look at a selection below that you might have missed.

Happy hunting to all!

David and Lin Schneider
OdysseySeaGlass.com


Did You Miss These Exciting Blogs?
Selected Pages from Odyssey and Contributors


Mar 31, 2013
Sea Glass Beach - April 2013 Sea Glass Photo Contest
~ submitted by Lindsey Kaszynski - Del Rio, Texas Where was this photo taken? Sea Glass Beach, Fort Bragg, California Date, time of day, and weather
Continue reading "Sea Glass Beach - April 2013 Sea Glass Photo Contest"
Mar 29, 2013
I Love Sea Glass!
~ photo submitted by Robert I love sea glass! Every vacation and trip I take I always spend hours at the nearest beach searching and searching for more


If this information has been interesting, entertaining, and/or helpful, please remember to

click the "Like

" or other buttons at the top of each page to share your favorites with your friends.

And by all means add your comments at the bottom of most pages.



Thanks!