Home - Color Rarity Chart - Green Sea Glass
Green Sea Glass, Green Beach Glass, Turquoise Sea Glass
"It Looks So Minty but Tastes Salty"
In the right light, green sea glass is prettier than an emerald - at least to beachglassers. What makes it so attractive?
First, a little about the origin of green sea glass.

Green sea or beach glass began as discarded bottles or other glassware that later was tumbled by waves and leached by the water, resulting in its jewel-like appearance.
Green sea glass, as with any colored medium, comes in many hues and shades.

Although green glass colors (from beer bottles or wine bottles), along with brown and white, make up the most commonly found colors of beach glass, there are also lighter or darker greens and hues of green that are far less common.
Green Sea Glass - What Makes It Green

Throughout history, "bottle green" has been one of the most common colors of glass in bottles.

The main reason for the green color is that the natural ingredients used in making glass - sand, soda ash, and lime - generally contained iron impurities in the sand.

Iron added to the glass-making process, produces a green color. So, depending on the amount of iron naturally found in the sand being used, the depth of green in the bottle glass was either light or dark.
| | | |
| --- | --- | --- |
| Dark Greenish Cyan Sea Glass | Lime-green Sea Glass | Sea Foam Green |
Green might be called one of the "natural" colors in glass making.
In fact, to get pure clear glass, the iron impurities would have to be removed in most cases.

So it's easy to understand why green was the cheapest and most common glass found in bottles over the many centuries of glass production, and why so much of the sea glass or beach glass today is green.

With a lower proportion of iron or if the iron was less oxidized, bluish to greenish aqua colors resulted.

If more iron was added or if there was higher oxidation of the iron, darker green colors were produced.

An example is the name "bottle green," first used as the name of a color in the early 1800s.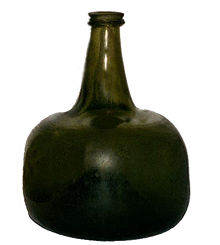 Bottle green is a dark shade of green with a little blue in it as seen in this old wine bottle.
Bottle green is a dark shade of green with a little blue in it. 

It is also called "wine bottle green" or "beer bottle green."

When even more iron was added, the glass could appear to be black; so much of what is called "black glass" actually has a greenish tint to it when held up to strong light.
There are some colors that lie somewhere between blue and green.
You may find it hard to say which it is.

On the other hand, a nice pure green like the one below doesn't leave any doubt that it is green.

Green beach glass or sea glass makes beautiful jewelry but green doesn't go well with some skin coloring.
Blue and especially white sea glass are more adaptable to a wider variety of skin colors and color combinations and are more popular for sea glass jewelry.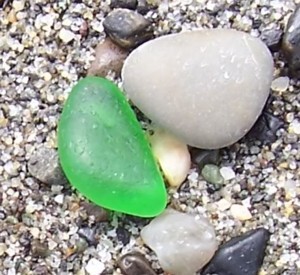 On most beaches, the most commonly-found colors of glass are white, brown, and green.
White is almost universally the most common glass color. Depending on the beach, the second-most common could be brown or it could be green.
The three colors together make an excellent contrast, and well-tumbled and frosted green is always a delight to find!


---
See also the specific pages on the following beach glass colors:

---
---