Home - Glass Floats - Glass Fishing Floats 2

Glass Fishing Floats, Glass Floats, Fishing Floats 2

This is the second in a three-part series featuring Stu Farnsworth.
~ Exciting interview and photos of renowned glass fishing floats collector and author, Stu Farnsworth.~
Dangerous and exciting, the search for these floats takes Stu into storms and night darkness.

Stu Farnsworth has been an avid beach comber and collector of glass floats for well over 30 years. He has a love for his hobby and the ocean and enjoys communicating with fellow collectors of glass fishing floats AND sea glass enthusiasts like us. Not to mention he is one great guy!

Stu and Alan D. Rammer are authors the definitive glass float book, Glass Fishing Floats of the World - The Collector's Price Guide and Identification Handbook.

What does this have to do with sea glass? Two things: First, that beautiful color of sea glass you find might have come from one of these glass fishing floats. Second, if you are on the Pacific Coast, keep your eyes open for these amazing treasures also!

Lin interviewed Stu and you will be fascinated by his stories....

Lin: Do you have a favorite memory of one of your glass fishing floats finds? Can you tell us the story behind it?
Stu: That would have to be in Kalaloch, Washington, USA on a beach we call the Hawaiian Spit. This was the first week of December in 1986. My best buddy and I were up there to beachcomb for the week. It was stormy. We had both found one float as we hit the beach just before sunrise. Between getting drenched every few minutes we would get a break.
One bad thing about this beach is that you have to go across a large stream to get to the good beach. It was always a real treat going across. I timed the waves waiting to get as close to the surf as I could and ran across (about 30 yards) to the other side before the ocean swells piled up and sent me running up the other side into the logs to get clear of it.

The ocean was coming in hard, so most of the time I was running up to higher ground. Several times I had close calls but was surprised that the surf was so high since we had timed being there when the tide was turning. We found out later that a storm surge from Alaska was hitting the area.

I was actually scared for my life several times that day as water surged in pounding the logs with tremendous force.
One time I remember running across the tops of the big logs to get clear of the water. The good Lord was watching me that day as I have no clue as to why I didn't slip on one and go down.

Finally after several hours the tide went out far enough to give us beach to comb. My buddy Alan was tired and wanted to rest, but I wanted to keep going on, so he said to go for it.

As I headed out, I came to a cliff that you could only get around by timing the waves and going for it to get to the next beach. I waited and finally went for it, did the 100-yard sprint to get around the bend to the next beach.

As I made it onto Hawaiian Beach, I looked down the beach and there to my shock 50 yards ahead I watched a beautiful aquamarine basketball-sized glass fishing float surf in on the waves.
As the final wave threw it on the beach, it sat there waiting for its new owner.

It was such a thrill to be on the beach all by myself and to see such a sight coming in on the waves to the end of its long sea journey.

What a thrill to just soak up the walk to pick up the float. I have many other exciting thrills of finding these floats but none were like this one with the float coming in.

Probably used for Long Line Cod Fishing along the Baja Peninsula. That is where this was found on the Beach in 1967.
This is a beautiful Cobalt color and well used with Oven Brick in the Glass and many scars and scrapes in the Glass.

Lin: Wow!

Talk about committed to your passion! Whew!

Well…to get our pulses back to normal, let's get back to some information on collecting glass fishing floats that I was wondering about.

I know in Japan even up to our day they're still using glass floats, although not in the quantity of years gone by. Are there other countries that still use them today?

Stu:

China, Korea, Taiwan, and Japan. This is a hard question to answer.

As far as I know, most of the floats found today are from piles of nets still used from glass floats that were made in the '50s, '60s, '70s, et cetera.

The Japanese use them then reuse them, and those that make it back are thrown in piles to be used on the next fishing trip.

There are probably still backyard industries that make floats but those are few and far between.

There are still countless thousands of floats still out at sea, but the heyday finding of them by the hundreds on the beaches are now behind us.

However, you can still find them if you are persistent, just not so many.

Lin: If somebody has glass fishing floats, what would be the best way for them to identify where one came from or who manufactured it if there are not telltale markings on it?

Stu: One time Amos Woods told me, as a rule thumb, the seamed floats are more than likely Korean or Chinese or possibly Russian. The majority of the free blown glass floats are usually Japanese. One thing he also told me was if the seal button is a good round seal, it is probably Japanese because they mastered the art many years ago.

Junk floats or floats that are misshapen are probably Korean or Chinese. Floats with a lot of oven brick or a lot of bubbles could be from a backyard industry or a family industry. These are usually pretty well sought after.
Here are some of my better Color Rollers. These are quite hard to come by.
The Teal Roller which looks blue was found at Cape Lookout State Park in 1948.


Note the 4th one up is Sun Colored from the Manganese dioxide in the glass.
Lin: Is there a way to verify that it's a legitimate glass float and not a knock-off?

Stu: I'll quote out of our "Price Guide" on this. "Many people, both the novice and collector, are often confused when they hear the terms real, contemporary, and curio applied to glass fishing floats.
Stu: Real glass fishing floats are those that were manufactured for fishing activities, both fresh and salt water.

They are constructed of heavy glass and normally show wear such as scarring, chips, dings, scrapes, and pits in the glass.

In many cases there may be signs of plant and animal life attached to them as they floated in their aquatic environments and made their journey to distant shores.

Stu: These floats can also sometimes be found with trademarks embossed on the glass.

Look closely at the seal button on the side of the glass or top of the glass opposite the seal button to see if a manufacturer's trademark or emblem is present.

Sometimes a separate patch of glass with the maker's trademark will be found.
These floats are also made of heavy glass, come in an array of beautiful colors, and may even have embossed markings - but they were never actually used in fishing. There are no signs of scrapes, scarrings, dings, chips, or pits. In other words, the glass is flawless.

For the most part, these floats were made in the late 1940s to late 1960s. There were made as souvenirs to be purchased in gift shops, shell shops, restaurants, et cetera.

Curio glass fishing floats are a recent arrival (the 1960s to the present) for those decorating to achieve a nautical theme.

These floats are very thin flimsy glass and exceptionally lightweight. They can be easily broken and would never hold up to the demands of high seas fisheries. They are usually poorly sealed and out of round.
They too come in a host of bright colors and are frequently found in shell shops and other retail outlets. They are the least expensive of the three varieties of glass floats."
Next - Stu's Glass Fishing Float Adventures - Part 3
Scroll down for comments...

Glass Fishing Floats Related Pages: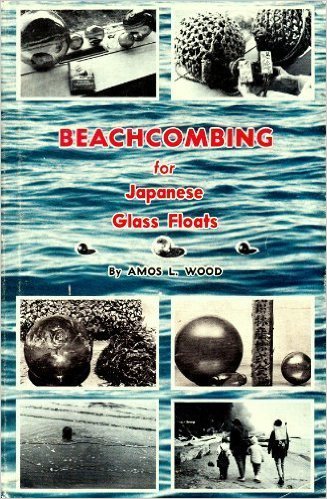 Beachcombing for Japanese Glass Floats

"Whether you're casually interested in the subject or very knowledgeable you will find much enjoyment and information in this intriguing book. Worth the time and a great book to leave lying around for your guest to pick up and enjoy." Jan M. Williamson
If you would like to get hold of Stu regarding floats, contact us.
---