Hi,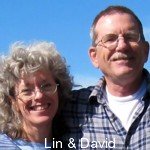 When Lin and I go to the beach, we always end up bringing home more objects than just the sea glass we find.

In fact, our apartment is stuffed with beach combed goodies, from driftwood to rocks to rope and miscellaneous metal objects and even (yes, hard to believe) some plastic.

We keep telling each other, "No looking at rocks today," "No picking up any more driftwood today," each time we go.

Do you think that completely stops us from doing so? Hah! We always end up emptying our pockets and baggies and... finding rocks, driftwood, etc. At least it's not as much as it might have been if we hadn't started with good intentions.

I'm sure you find the same thing happening.

But aside from filling cardboard boxes and stuffing the garage, what do you do with your beach combing finds?

You probably do what Lin does; pick the neatest things out and make cool arrangements.

I enjoy seeing these mini-scenes here and there on the tables, counters, and window sills, as well as a few artsy creations that we hang on the walls.

Later in this newsletter we'll be showing some photos of some of the ways Lin has arranged our finds in nice little displays.



Here's what you'll find in this June 2013 edition of the Odyssey Sea Glass Newsletter.
Stay in the Loop - Be Connected - In the Know

If you haven't already found us on

Pinterest

, check out our many photos about sea glass, beach crafts, driftwood, waves and more:

Odyssey Sea Glass Pinterest Photos

Click "Follow" to return to the Pinterest page often!

Also, we have started to post special pics each day on our Facebook page. Many of these photos don't appear on our website:

Facebook - Sea Glass Odyssey

"Like" the page and keep in touch. Let us know your thoughts, post your photos and comments!




Winner of the May 2013 Sea Glass Photo Contest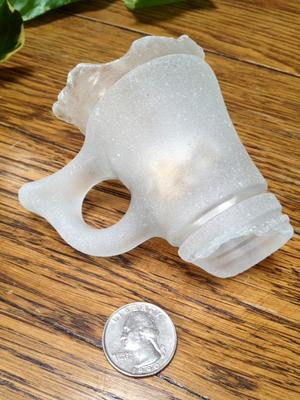 The winning photo is "
Bottleneck on Assateague Island
' by Carie Teller in Allison Park,
Congratulations, Carie!
We also appreciated the other submissions shown here. Thanks, everyone!

Lin's Beach Find Arrangements
In this first photo, Lin has placed round rocks on top of a long piece of rock found on the beach.

The long slab has obviously been shaped and, from its texture and the way it is worn, we are almost positive it was used as a file for sharpening blades, ie, axes or knives.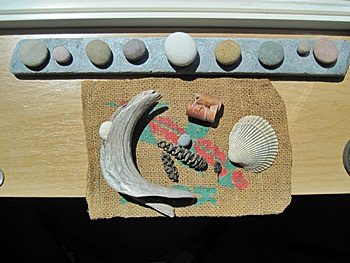 1. Round rocks on a knife-sharpener.
2. A "fancy diver" of rock and driftwood
along with pine cones, birch bark and a shell.


Unfortunately, I had to move most of these arrangements from their usual places to better lighting.


This arrangement usually hangs on the wall; again, I moved it into better lighting on the windowsill.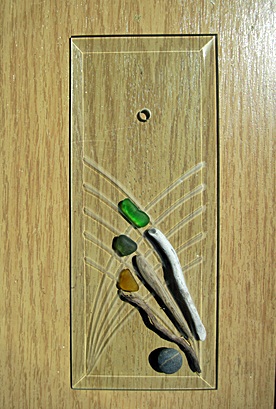 This is a recycled panel of glass with driftwood, sea glass, and stone mounted on it.





In this third photo, you see a marble along with some smaller sea glass in this amazing piece of driftwood in its usual place on our living room windowsill.

Although we have great driftwood in our area, we actually collected this beautiful piece on the Oregon Coast.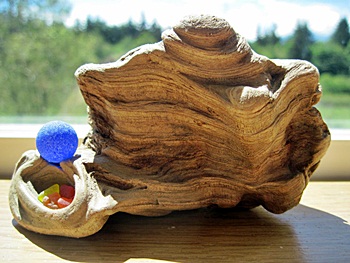 Driftwood, sea glass, and marble.




The fourth photo shows an arrangement again on our living room windowsill where it generally resides.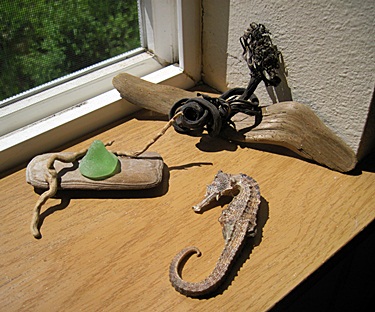 Driftwood, sea glass, and seaweed from Washington
along with a seahorse from our local beach in Peru, SA.



The fifth photo is of a piece that I put together. I left it on the wall, and as you can see, the lighting is somewhat washed out, but you get the idea.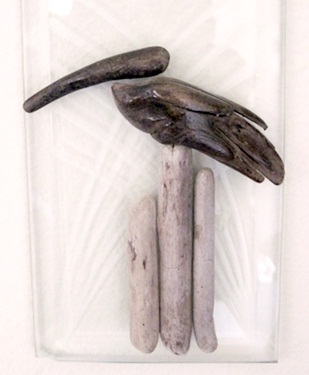 Driftwood from Washington mounted on a
recycled glass panel of the type used in chandeliers
a



Other arrangements sit on the counter between the kitchen and living room and were a little too big to move into better lighting (we're not professional photographers here :-)

Now the question is - with our windowsills and counter space used up, where are we going to put the newer rocks, driftwood, etc, that we "won't pick up"?



~ David





Bugle Call
If you have a special arrangement of sea glass colors, we would love to see it. On our Sea Glass Forums page, there are several different photo forums where you can upload your sea glass colors.




Have you missed out on the new pages and blogs at Odyssey Sea Glass?

Check them out quickly and easily on our Sea Glass Blog or take a look at a selection below that you might have missed.

Happy hunting to all!

David and Lin Schneider
OdysseySeaGlass.com


Did You Miss These Exciting Blogs?
Selected Pages from Odyssey and Contributors





If this information has been interesting, entertaining, and/or helpful, please remember to

click the "Like

" or other buttons at the top of each page to share your favorites with your friends.

And by all means add your comments at the bottom of most pages.



Thanks!