Hi,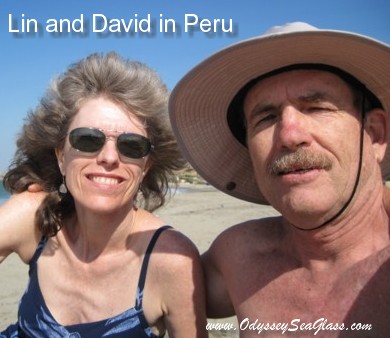 We're already 15 days into 2016.

Well, I guess you all knew that already. Here in the Southern Hemisphere, it is just started to really feel like summer.

Lin and I had to go to Lima, the capital of Peru, for visa paperwork dealing with Lin's resident status.

Lima is about 9 hours by bus south of where we live in Huanchaco, Peru.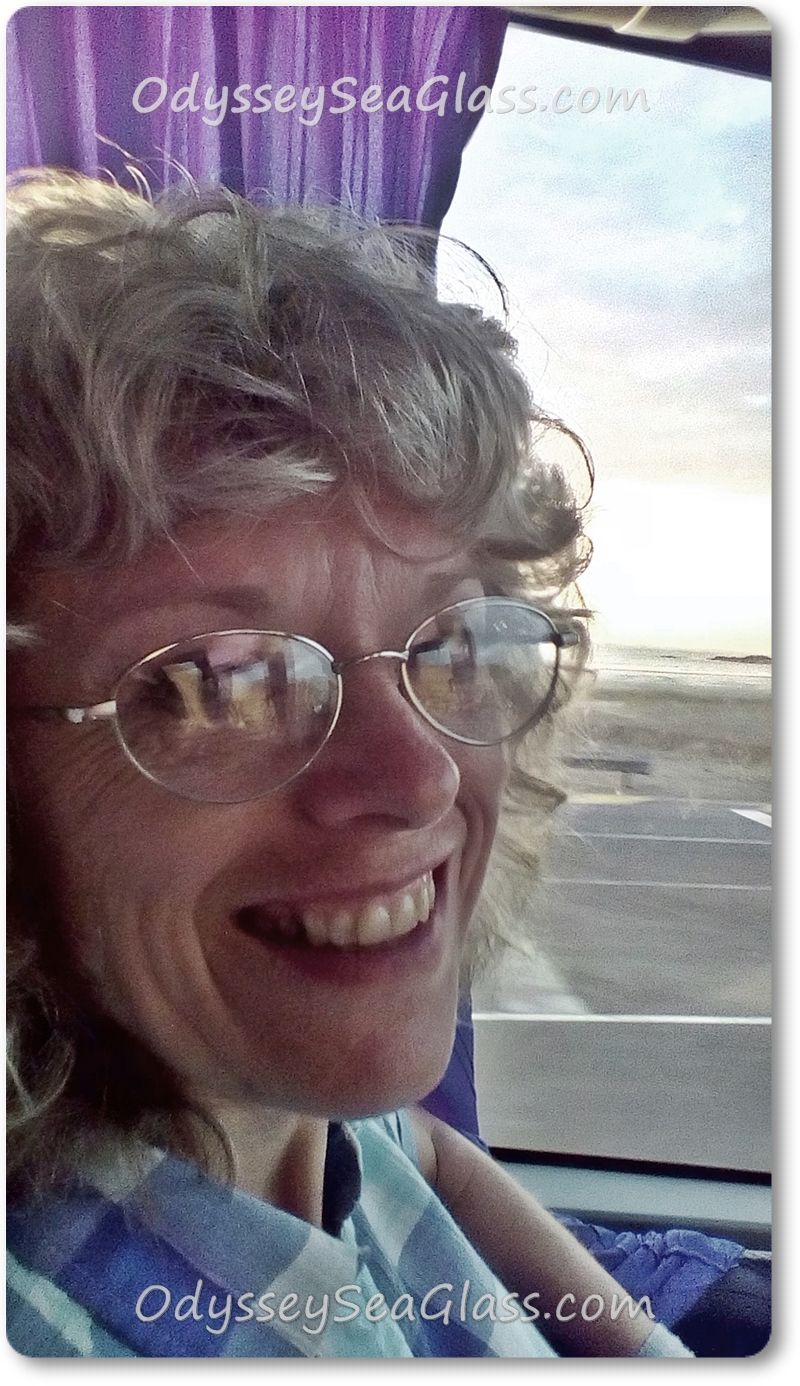 Lin on Bus to Lima, Peru


Since these buses are used way more than private transportation, they are very luxurious. Most people leave at night, sleep on the very laid-back seats, and arrive at their destinations in the morning.

We did get to the beach in Lima eventually to look for sea glass (with no high hopes, however), more on that in a second.






Here's what you'll find below in this January 2016 edition of the Odyssey Sea Glass
Newsletter.
But first...
In Search of the Elusive Sea Glass
The long-distance buses in Peru are quite different than buses in the more developed countries. Along the coast, much of the bus ride looks like this: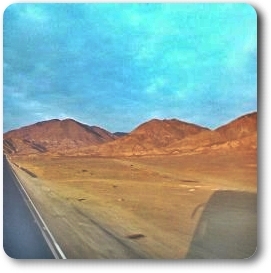 Very Tropical Desert


The highway to Lima from north or south runs through very tropical desert. Huh? Yes, no rain as you can see above means no life. But wait, when you get to a river valley with irrigation, it is lush and tropical with sugarcane, papayas, bananas, mangoes, coconuts, passion fruit, pineapples, and believe it or not, rice paddies!

Last Wednesday, we got to Lima in the midst of early morning rush hour, unfortunately, and it took a long time from the northern limits of Lima to get to the center, where we caught a taxi to Interpol and then to the hostel in the Miraflores area where we had reserved a room.


"Enjoy Hostels" in Miraflores, Lima



Later in the day, we walked from the hostel with the curious name to the beach below the cliff-hanging Larcomar Shopping Center.

Although Lima is generally quite cool and cloudy, the weather this time really let us know how deep in the tropics Lima is. It was HOT.


Between the city above and the beach there is a cliff of 240 feet.

Walking down the steps, we didn't really think too much about those figures.

However, the weather at the beach was in the mid 80s and humid. We looked for beach glass for awhile but we might have better spend the time people watching and thinking about walking back up the stairs.

I thought about it later - that's like climbing the stairs up a 24-story building. Sweating. Happy to be on top of things again.


Although we only found 2 tiny pieces of sea glass, we did enjoy finding these really orange shells as well as other beach finds (no more photos though)


Actually we did spend a lot of time people watching, especially the wannabe surfers hanging out trying to look macho pretty much like at any medicocre surf town in the world.

I did mention that the weather was probably 85 degress and humid didn't I? Like Miami in the summertime.


Midweek Summer Crowd in Lima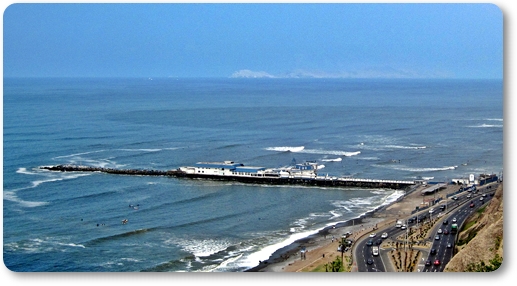 With Wannabe Surfers


We had reported on sea glass on Lima beaches a couple of years ago, when we did find some. See https://www.odysseyseaglass.com/peru-beach-glass.html

The beaches along the ocean, though, are constantly being back-filled with rocks to prevent erosion, so glass gets covered up and hard to find.

In about one week, we will be back in Lima. We plan on exploring a nearby beach where we're almost sure there is going to be some very good sea glass. We'll take photos!

And... happy hunting in cold or hot weather!

David and Lin


Winner of the December 2015 Sea Glass Photo Contest
"Spring tides in Prince Edward Island"
by
Dianne
Congratulations to you, Dianne, from all us 'glassers!

>>>> Hey! Everyone is invited to submit a photo to our Monthly Sea Glass Photo Contest - just click here and follow the instructions closely. <<<<

Did You Miss These Exciting Blogs?
Selected Pages from Odyssey and Contributors:
Jan 11, 2016
Thick old piece containing bubbles in the glass and is iridescent!
I found a very thick, greenish brown piece of glass at Kingston Landing on the Choptank River in Easton, MD. This landing was a huge cotton port back
Continue reading "Thick old piece containing bubbles in the glass and is iridescent!"

Chesapeake Western Shore Beach Glass Report
~ sea glass beach report submitted by Deb Moriarty, Port Republic Name of Beach and Location: South of Plum Point to north of Calvert …

Betterton Beach MD
~ sea glass beach report submitted by Teanna Byerts in Dover PA USA Name of Beach and Location: Betterton Beach, Maryland Betterton lies …

Tolchester MD
~ sea glass beach report submitted by Teanna Byerts, Dover PA USA Name of Beach and Location: Tolchester Beach, Tolchester MD In …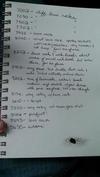 Scenic Drive, Minneapolis Sea Glass Report
~ sea glass beach report submitted by Marie L. , Minneapolis, MN Name of Beach and Location: There are two good stops along Scenic …
Hayama Beach - Japan Sea Glass
~sea glass beach report submitted by Mary McQuain, Yokosuka, Japan Name of Beach and Location: Hayama Beach, off of Route 134 in …

Torrance Beach CA Sea Glass
~ sea glass beach report submitted by Anonymouse RAT beach (it's the stretch between R edondo A nd T orrance Beach Locals …

Sea Glass at Hendry's (Arroyo Burro Beach) in Santa Barbara, CA
~ sea glass beach report submitted by Patrick , Santa Barbara, CA Name of Beach and Location: Hendry's Beach (Arroyo Burro Beach) …
Plum Island (north shore, Massachusetts)
~ beach report submitted by Jane , Newburyport, MA USA Plum Island (near mouth of Merrimack River) near Newburyport, Massachusetts. Plum Island …



Read HUNDREDS MORE BEACH REPORTS:

https://www.odysseyseaglass.com/sea-glass-beach-reports.html Check out our Zazzle products - click on the poster below: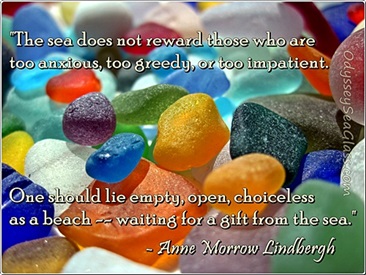 If there are any related products that you would like to see offered, please let us know.

Thanks to all of you who have made it possible to continue running OdysseySeaGlass.com continually since 2008, and....

Happy hunting,