Wisconsin Beach Glass
by Miles
(Milwaukee, Wisconsin)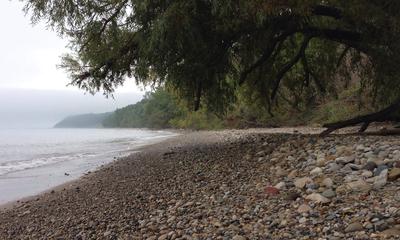 Grant Park Beach
Grant Park Beach, Cudahy, Wisconsin Beach Glass


Cudahy, Wisconsin
Lat: 42.918056, Lon: -87.845982

I always find many very large craft-quality pieces of glass, jewelry-grade pieces, I've found 10 marbles at this beach, with my best day having found four marbles.

Purple, red, pink, blue, green, brown, white and milk glass can all be found.

Many pieces of pottery and dominoes.

I've found a few bottle stoppers and an orange piece of glass shaped like a decanter head.

The best part about this beach are the muddy cliffs which trickle down water to the lake.

This water carries with it various dissolved minerals and silt. The water runs across and through plant matter which, through calcification, turns the plants into a stone-like material.

You can find many very young fossils, as well as glass that has been calcified, then subsequently beach tumbled. These beach-tumbled pieces of glass with calcification are quite rare to find, and these cliffs are a mass of calcification being eroded by the beach.

Good - 5 to 9 pieces of jewelry grade sea glass found per hour.

The beach is surrounded by large and muddy cliffs, which are difficult to traverse off-trail. The waves can reach to the bottom of the cliff, leaving much of the beach inaccessible during portions of the day and during storms.

Despite some comments saying there are shady people and gang activity, this is anecdotal, at best.

I live minutes from here and am there every couple days. I assure you there is never gang activity. The people consist of mostly backpack hikers and families and kids. The surrounding neighborhood and towns are beautiful and safe areas.



Scroll down for comments...
More Wisconsin Beach Glass: