Hi,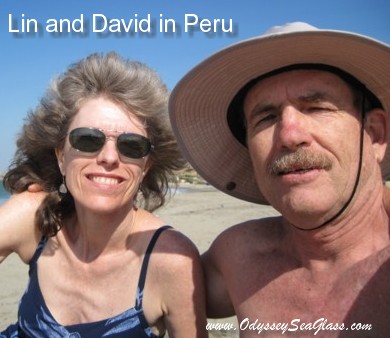 Guess what? More computer problems... so we'll include in this newsletter a partial reprint from a previous OdysseySeaGlass newsletter about the importance of tides related to sea glass hunting.

For those who have submitted photos to the April Sea Glass Photo Contest, hang in there.

We will be moving those to the April-May Photo Contest, giving more time for y'all to vote for these submissions.






Here's what you'll find in this late April 2016 edition of the Odyssey Sea Glass

Newsletter.








Winner of the February-March Sea Glass Photo Contest

---

Congratulations, Michelle!



What Every Sea Glasser Must Know About Tides
It is very important to know what the tides are like before you plan a sea glass hunting trip to an ocean shore.
There are two important reasons for knowing the time of the tides:
Safety

Success
First, we'll discuss these two reasons in general terms and then get a little more specific.
#1 Reason: Safety
Although the lyrics to the song quoted at the beginning of this newsletter state that the tide "plants a kiss on the shore," in reality it may be a harsh and unwanted kiss. Why?
It's important to know the times of high and low tide at the particular beach you'll be going to because some beaches are dangerous at high tide. No wants that kind of a kiss.
Tides will vary quite a bit from one beach to another, so be sure to get a tide chart report on the beach closest to your destination.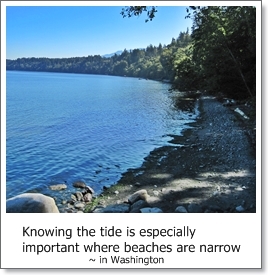 ~ Have you ever been on a narrow beach backed by cliffs with the tide coming in and a long hike (run) ahead of you? ~
If you have been in that position you are not alone. Many of us have faced a similar situation and some have had to be rescued by helicopter when the incoming tide closed off the only way out.
So, for safety reasons, you will need to know first if the beach poses any dangers at high tide, and second, what time is high tide.
#2 Reason for knowing the tides: Success
How much sea glass you find and how much enjoyment you get out of your seaglassing trip depends a lot on the tides.

For most ocean beaches, the best time to find sea glass is at low tide and the worst time is at high tide.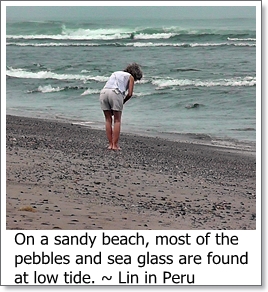 So to plan a successful trip, you'll want to schedule a day that includes at least a few hours when the tide is lowest.
What would be the ideal time to go based on tides?
I popped that question to Lin and she immediately said, "Noon." Then she thought a little and qualified it, saying "it would be noon in the winter but a little later in summer to take advantage of longer hours of daylight."
For safety reasons and also for the success and enjoyment of your trip, it is essential to know in advance the times of the local tides.

>>>> Hey! Everyone is invited to submit a photo to our Monthly Sea Glass Photo Contest - just click here and follow the instructions closely. <<<<

Did You Miss These Exciting Blogs?
Selected Pages from Odyssey and Contributors:
Apr 30, 2016
Black Clay Beach Object?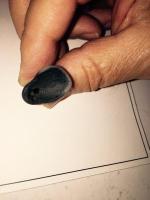 Black and gray clay found object at Sandy Point Beach Maryland. April 14, 2016. Early morning. 1/4 across tip 1. 1/8 inch long Wide area is about



FIND A BEACH and read HUNDREDS MORE BEACH REPORTS:

https://www.odysseyseaglass.com/where-to-find-sea-glass.html




Also - Check out our Zazzle products - click on the poster below: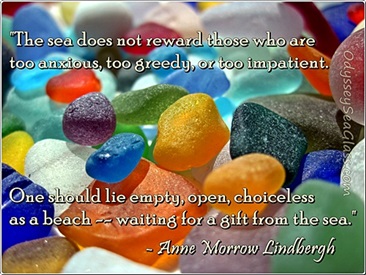 If there are any related products that you would like to see offered, please let us know.

Thanks to all of you who have made it possible to continue running OdysseySeaGlass.com continually since 2008, and....

Happy hunting,