Rarer Pinks and Blues - Sea Glass
by Sofia and Peter
(Rye Victoria, Australia)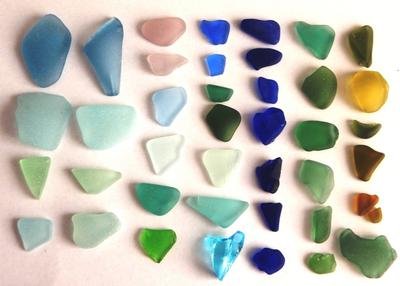 Pinks and Bues and in between
The rarer pinks and blues that keep us addicted!
We're currently living in Rye on the Mornington Peninsula in Victoria, Australia.
We got hooked on seaglass after finding some tiny pieces at Rye 16 Beach.
In a few weeks we will return to our home in Canberra and will miss our newest hobby.
At night we can hear the waves roaring in at Rye Beach and we dream that there will be a huge collection for us the next day.
Our favourite beaches are Diamond Bay and St Pauls Beach. We have collected brown, white and green pieces and occasionally a rarer colour. We plan to design some stepping stones for the garden and use the pieces as mosaic.
The pieces that wash up on to dry sand are easiest to collect. But it's great fun finding the pieces that wash up right at your feet as the tide is coming back in.
We then rush to grab them before the next wave takes them back. Sometimes seaglass lodges in the huge clumps of seaweed.
It's always exciting to find a piece of cobalt blue, or emerald green!
We recently sent some rare pieces to our cousin in Poland and we told her they were from Diamond Bay. And we wished that they were all diamonds just for her!