Black Sea - Glass Beach, Ukraine
by Rusty
(USA)
Sea Glass from the Black Sea, Ukraine
My wife and I recently went to Ukraine and found a lot of sea glass on the Black Sea.
The beach we went to was so populated with sea glass you could literally sit in one spot and pick up glass for an hour straight. We ended up with 5 pounds in about 2 hours between two people and found probably 30 jewelry A or B pieces.
We ended up with three red pieces, 3 or 4 cobalt blues, yellow, pottery, and two old glass beads, one white and one cobalt.
We are from Missouri and we want to travel in the US to a good beach to hunt but have no idea where to go. We've looked through the beach list on the site but hate to drive a thousand miles to find nothing... Is it possible to find such a beach here? Do you have any suggestions?
Your site is awesome by the way, the best resource on sea glass on the web.
Thanks,
Rusty (see more photos below!)
---
Sep 15, 2009
Ukraine Sea Glass - Black Sea - Sebastopol
Hi Rusty,
What a nice report on the Black Sea. Lin and I have been looking at the map of that area off and on and wishing we could check it out. Seeing that it is one of the oldest inhabited areas of the world with just the right conditions, we figure there had to be great sea glass hunting...but yours is the first report from there.
Unfortunately, those kinds of beaches are not readily available anywhere near Missouri...that we have heard about yet. I'm sure there are some good beaches that have not been reported along the Great Lakes shores aside from the ones we have listed.




I guess the closest beaches to you would be the Gulf Coast, but then again, it has not been reported very well up to this time. Basically, the Gulf is made of deposits of huge amounts of run-off leaving very deep sand...glass just gets buried and doesn't get uncovered very often.

The best beaches are ones with a little sand/gravel mix on top of underlying rock. The glass can't go too far and is near the surface.
Anyway, I will post your commments and questions and see if someone can add a beach that is not too far from you.

Since we are in Washington, the only beaches we can check out personally at this time are the ones in this area...and there are some good ones.

As time goes by we hope to collect more reliable information on beaches in many areas but right now rely on reports (photos help).
If you have any photos of the sea glass or even a photo of the beach along the Black Sea, please send it to me. Everyone would love to see it, I'm sure!
Thanks again,
David and Lin
---
From: Rusty

Thanks for replying back so quickly...

I had never even thought about sea glass before until we were at the sea and I saw it everywhere... We picked up a bunch of it but didn't really know what we were looking for. When we got back to the states we did some research and now wish we were back there =)

We would have looked for better quality and more rare colors…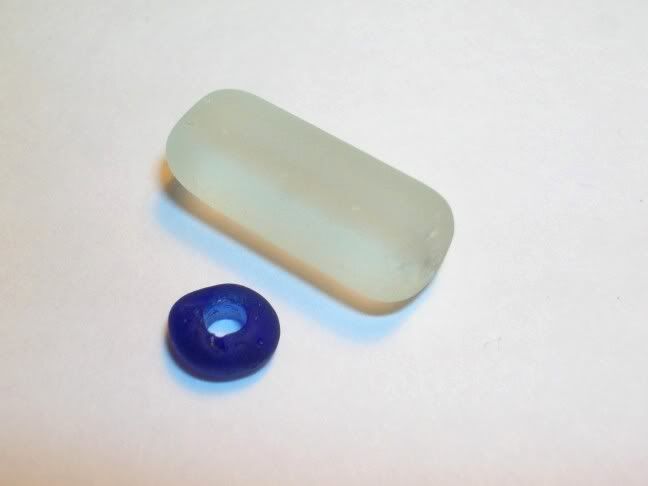 Beads - Sea Glass Beads from Black Sea, Ukraine
Black Sea, Ukraine, Sea Glass Group
Wow! We think what you have is pretty rare already! Especially the beads, those are extremely rare, not to mention reds and other colored pieces in the group.
David and Lin
Join in and write your own page! It's easy to do. How? Simply click here to return to Beaches Your Favorite.
| | | |
| --- | --- | --- |
| Like this page! | | |
---
Photo of the Month
Comments from Our Viewers
---
Many thanks to you both for your time and insight!

I love your page. It's been a great resource in my hunting!

All Best, Amanda in Connecticut
Hi David,

I received your sea glass hearts and I LOVE them all.

Thank you so much for sending the extra hearts.

I was so touched by your thoughtfulness and I appreciate you sharing these special gifts from the sea! Hope to see more of your sea glass soon!

Thanks again,

Diane
Hi David,

Just wanted to tell you thank you for the monthly sea glass newsletter. I love it, and look forward to it.

Thanks again to you and your wife.

Judi
Hi David,

I just wanted to let you know I appreciate receiving my sea glass order so quickly.

Love the flowers, wave crest & rare pastels and the little extra surprise....you made my day!!

Diane
I am so fascinated by sea glass - I can't believe at 70 I found a new hobby.

Thanks for the opportunity to search and read up on this!

Sonja
Your site made me so happy tonight! Why?

Many happy memories swirled back into my mind when I saw your pictures. I spent my childhood on the beaches of Cape Cod and we spent many happy hours looking for sea glass."

Candee
It is a pleasure and refreshing to meet people in the sea glass community that are willing to share! I got some great tips from your site. It was wonderful not to spend my entire vacation looking for a beach. Thanks again!

Maryanne K.W.
Hi David and Lin.

Love your sea glass web site. I enjoy your picture of the month and intend on winning at least once.

I have been collecting and creating things from sea glass for over twenty years. I find my sea glass on the beautiful shores of Lake Erie in Cleveland Ohio.

Thank you for sharing your treasures with me. Yours truly,

Cathy Lincks
What an AWESOME site! I love reading about it, looking at all of your pictures, and planning my next vacation to the perfect beach.

Keep up the great work!

Paula
I'm a new subscriber to your newsletter and I love it!

Rena
Hi David,

Just wanted to let you know how much I appreciate your newsletters.

I never even knew about sea glass before 2 years ago, now of course I'm hooked, love it, just love it.

Diane
Hi David and Lin - I love your website! Thank you for sharing info...

Teryl
Hi David. Its Bill and Joan Laverick, Durham City, North East of England. We love reading your posts. Keep up the good work!

Bill & Joan

I soo look forward to reading your blogs.

Jacqueline Giguere

Just wanted to let you know (since you were so helpful) that I won a blue ribbon (1st place) in Gifford Middle School Science Fair in the category of Environmental Science with my topic - Effect of a Florida Tidal Inlet on Wrack Line Sea Glass Volume.

Now, I will compete in the Regional Science Fair which will take place on Feb 2nd. My mom and dad and I had a lot of fun searching for sea glass.

Thanks,

Mary Hyde

I am beginning to be a typical sea glass hunter - always looking for fun places to find glass!

I think your site is great - very informative - thanks for the time and effort you put into it.

Karen

I am beginning to be a typical sea glass hunter - always looking for fun places to find glass!

I think your site is great - very informative - thanks for the time and effort you put into it.

Karen

I love your email newsletters. I am 77 and try to get "glassin" whenever anyone will take me to the beach!! :-))

P. Paul

Hi David

Just wanted to tell you thank you for the monthly sea glass newsletter. I love it, and look for ward to it.

Thanks again to you and your wife,

Judi Weber

Hi David and Lin!

I SO enjoy you newsletter! Please forward it to my sister. I've got her hooked on the beauty of sea glass!

Thanks in advance! Happy foraging.

Joan D

Hi David and Lin,

I have shared your website with my other sea glass fanatic friends over the last couple of years and they love it as much as I do.

Yours is my favourite website of all time and the very best website I've seen for everything sea glass.

I can lose myself for hours in your website. Dangerous place!

Anne O, Toronto

Thanks so much for the information.

I visited Carbon Beach today.

Very small and few people but a nice supply of glass just as you stated.

Thanks!!



Jan

Hi Lin and David,

I have come to sea glass via my shell collecting and am finding it very addictive too. Last year I found a glass bottle stopper which was a thrill.

I really enjoy the newsletter and can easily spend an evening getting lost in the stories and comments.

Regards,



Anne Cram

Just wanted to thank you for all of your helpful information.

The sea glass community is filled with people who guard their secret beaches so it is refreshing to see that there are people who are willing to share.

It's so useful for those of us that don't live near a beach and travel to find our glass.

The information posted here lets us spend more time enjoying our adventure rather than wasting time looking for a great spot

Thanks again,



Anonymous Viewer

Gee, my heart races when I hear about all these marvelous finds.

Kudos to this wonderful site and for those who share their finds.

You've got a friend in me,

Norma Myrphy

I love your site, thanks for all the wonderful info.

I'm looking forward to my new hobby and participating in your odyssey Seaglass forum.

Sincerely,

Victoria

David & Linda,

So wonderful to have crossed paths with you and thanks for sharing your expertise on sea glass along with your wonderful website.

Ann & I have caught your infectious seaglass fever! Hope to cross paths again soon.

Happy and safe traveling! "

Richard C. Wong · Portland, Oregon




---









---