Sea Glass Home Page

-

Sea Glass Color Chart

Sea Glass Color Chart
What really is the color of your seaglass?




Below you will find over 80 named colors to help you accurately describe your sea glass and identify rare or valuable sea glass...

very important when buying or selling!



Here is a complete sea and beach glass color chart to help you identify the color of your sea glass.



This sea glass color chart has the standardized names that David put together based on the colors that your computer screen shows.

We have added some commonly-used names in parenthesis.

We have found this much more helpful than using a less extensive or non-standardized color chart. Why?

Very often, the unusual colors you find cannot be categorized using a simple color chart.

Also, using your favorite names when describing the color of your sea glass can cause quite a bit of confusion or can even be misleading.

~
Use of this sea glass color chart and referring to it when communicating with another person will help avoid misunderstandings
. ~

This full color spectrum sea glass color chart shows many of the 130 colors that show on a computer screen (some colors were deemed not applicable to sea glass).

It helps you to accurately describe the glass color that you have. This is very important when collecting sea glass and selling sea glass.

Try this out:

Take a shard of sea glass.

Hold it up with a piece of white paper behind it.

Compare it to the color on the screen.

Now hold the sea glass up to a muted natural light source, again comparing it to the screen colors.
It will be quick and easy to eliminate the colors it is NOT and settle on the standard name for the exact color you have!





NOTE: There are so many nuances to color that it is naturally impossible to match many colors to this chart exactly.

~ Use combinations such as "lime spring green" for a color that falls between two other colors on the chart and make use of "pale," "bright," "smoky," to modify colors as needed. ~

Black


Dark
Blue
(Cobalt)
Medium
Blue
Blue
Dark
Green
Green
Teal
Olive

Green
Deep

Sky Blue
Dark
Turquoise
Lime

Spring
Green
Aqua or
Seafoam
Midnight
Blue
Royal
Sky Blue
Forest

Green
Dark
Slate
Grey
Lime
Green
Emerald

Turquoise

Royal
Blue
Sea
Green
Steel

Blue
Medium
Turquoise
Indigo
Dark
Olive
Green
Cadet
Blue
Cornflower
Blue
Sky Blue

Blue
Violet
Dark
Red
Dark
Magenta
Brown
Dark
Sea
Green
Medium
Purple
Dark
Violet
Pale
Green
Medium
Yellow
Green
Sienna

Gray

Light
Blue
Green
Yellow
Pale
Turquoise
Powder
Blue
Fire
Brick
Dark
Amber
Medium
Orchid
Rosy
Brown
Light
Cyan
Lavendar
Dark
Salmon
Violet
Light
Coral
Burleywood
Orchid
Thistle
Amber
Pale
Violet
Red
Crimson
Light
Gray
Khaki
Light

Seafoam
Sandy
Brown
Wheat
Beige
Salmon
Linen
Light
Amber
Old
Lace
Red
Fuchsia
Deep
Pink
Orange
Red
Tomato
Hot
Pink
Coral
Dark
Orange
Light
Salmon
Orange
Light
Pink
Peach
Moccasin
Mistyrose
Blanched
Almond
Lavendar
Blush
Sea
Shell
Corn
Silk
Lemon
Chiffon
Floral
White
Yellow
Light
Yellow
Ivory
White
For more information, follow these links:


Color Spectrum Chart and The Visible Spectrum
The visible spectrum is the portion of the electromagnetic spectrum that can be detected by the human eye. Electromagnetic radiation in this range of wavelengths is called visible light or simply light.

How to Grade Sea Glass


Have you been wondering how to grade sea glass? Here you will find an explanation of important features in real beach glass and a 5-grade quality scale,



Special - Rare and Unusual Sea Glass
Find out what these specials are...peaches, apples, limes, milk... it sounds delicious! And these are colors that you may want to take a look at!


Mosaics and More - Green Sea Glass
One of the easiest colors to use for your arts and crafts is green. With the many interesting varieties of green sea glass, see what brings out the artist in you.

Go from Sea Glass Color Chart to Odyssey Sea Glass Home Page



"I love the beach, I love the waves,
Search
Odyssey Sea Glass's
1200+ Pages
Photo of the Month
Comments from Our Viewers
---
"Hi David,

I received your sea glass hearts and I LOVE them all.

Thank you so much for sending the extra hearts.

I was so touched by your thoughtfulness and I appreciate you sharing these special gifts from the sea! Hope to see more of your sea glass soon!

Thanks again,"

Diane
"Hi David,

Just wanted to tell you thank you for the monthly sea glass newsletter. I love it, and look forward to it.

Thanks again to you and your wife."

Judi
"Hi David,

I just wanted to let you know I appreciate receiving my sea glass order so quickly.

Love the flowers, wave crest & rare pastels and the little extra surprise....you made my day!!"

Diane
"I am so fascinated by sea glass - I can't believe at 70 I found a new hobby.

Thanks for the opportunity to search and read up on this!"

Sonja
"Your site made me so happy tonight! Why?

Many happy memories swirled back into my mind when I saw your pictures. I spent my childhood on the beaches of Cape Cod and we spent many happy hours looking for sea glass."

Candee
"It is a pleasure and refreshing to meet people in the sea glass community that are willing to share! I got some great tips from your site. It was wonderful not to spend my entire vacation looking for a beach. Thanks again!"

Maryanne K.W.
"Hi David and Lin.

Love your sea glass web site. I enjoy your picture of the month and intend on winning at least once.

I have been collecting and creating things from sea glass for over twenty years. I find my sea glass on the beautiful shores of Lake Erie in Cleveland Ohio.

Thank you for sharing your treasures with me." Yours truly,

Cathy Lincks
"What an AWESOME site! I love reading about it, looking at all of your pictures, and planning my next vacation to the perfect beach.

Keep up the great work! "

Paula
"I'm a new subscriber to your newsletter and I love it!"

Rena
"Hi David and Lin - I love your website! Thank you for sharing info..."

Teryl
"Hi David. Its Bill and Joan Laverick, Durham City, North East of England. We love reading your posts. Keep up the good work!"

Bill & Joan
"I soo look forward to reading your blogs."

Jacqueline Giguere
"Just wanted to let you know (since you were so helpful) that I won a blue ribbon (1st place) in Gifford Middle School Science Fair in the category of Environmental Science with my topic - Effect of a Florida Tidal Inlet on Wrack Line Sea Glass Volume.

Now, I will compete in the Regional Science Fair which will take place on Feb 2nd. My mom and dad and I had a lot of fun searching for sea glass.

Thanks,"

Mary Hyde
"I am beginning to be a typical sea glass hunter - always looking for fun places to find glass!

I think your site is great - very informative - thanks for the time and effort you put into it. "

Karen
"I am beginning to be a typical sea glass hunter - always looking for fun places to find glass!

I think your site is great - very informative - thanks for the time and effort you put into it. "

Karen
"I love your ems.--am 77 and try to get"glassin" whenever anyone will take me to the beach!! :-)) "

P. Paul
"Hi David

Just wanted to tell you thank you for the monthly sea glass newsletter. I love it, and look for ward to it.

Thanks again to you and your wife,

Judi Weber
"Hi David and Lin!

I SO enjoy you newsletter! Please forward it to my sister. I've got her hooked on the beauty of sea glass!

Thanks in advance! Happy 'foraging'."

Joan D
" Hi David and Lin,

I have shared your website with my other sea glass fanatic friends over the last couple of years and they love it as much as I do.

Yours is my favourite website of all time and the very best website I've seen for everything sea glass.

I can lose myself for hours in your website. Dangerous place!

"

Anne O, Toronto
---
Keep Up To Date With OdysseySeaGlass's Most Recent Blogs and Pages
---
Feb 26, 2014
Red Sea Glass is a Rare Beach Find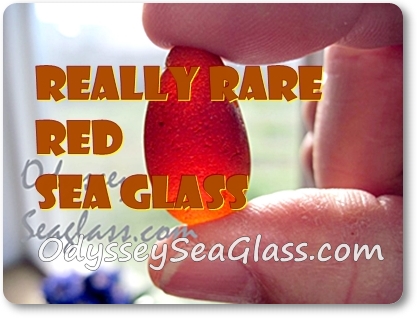 Red Sea Glass is a Rare Beach Find - Why is it hard to find? How can I find it? Here, we will focus on finding rare beach glass - why certain beaches have the rare colors and why others don't.