The Sea Glass Odyssey
A Journey into Sea Glass

It happened late one afternoon.

I had been walking slowly along the shore near my mother's house on the Chesapeake Bay looking for beach treasures...


Wanting to make one last trip down the small beach, I turned around and wow!!!

Tumbling up the beach pushed by a small wave was an orange piece of sea glass!

I couldn't believe it at first. Then I started jumping up and down. I just had to run home and show it to everybody...



Lin Schneider





The Thrill of the Hunt
Have you experienced the thrill of finding a deliciously-frosty and perfectly-tumbled piece of sea or beach glass? Although most are not orange, each piece is an exciting find in itself. Perhaps you have wondered:



What is "sea glass?"
Sea glass defined. All about genuine seaglass, beach glass, ocean glass, sea gems, mermaid's tears, etc.


Where can I find it?
Are you planning on taking a trip to the beach and want to know if there good beaches for sea glass in that area?
Where are the best beaches for collecting sea glass?

What colors are the rarest?
The sea glass color you've found is rare....is it...or not? Find out...you may have beach glass that's valuable to collectors or for your own collection.
Where to Find Sea and Beach Glass Information?
Here's what happened to me and why I decided to write about this wonderful subject.:

Like many of you, my "Odyssey" or journey began quite a few years ago.

While enjoying walks on the shore, first on Lake Erie and later on various Atlantic and Pacific beaches, I began picking up sea glass (also known as beach glass).

Then as time went by, I found myself really getting excited and even hooked on finding more rare and exotic pieces.




Not only was I beginning to want to spend more and more time actually looking for sea or beach glass, but at the same time I was trying to figure out some way of using it creatively. So I started searching the Internet for more information.

However, when I began to research sea and beach glass, I couldn't really find what I was looking for, such as

what colors are the rarest,
where could I find unusual beach glass, and
what could I do with my growing collection.
You probably have had a similar experience.



Compiling the Information on Sea Glass
Now, I've put what I've found by researching and learned by experience together - an ongoing process, as I continue to discover fascinating new tidbits on the beach and from others..

On the pages of this site, you'll find the answers to the questions towards the beginning of this page ... and much more. My husband David writes much of the material found here, but relies heavily not only on my experience but also on the excellent contributions of many of you sea glass fans.

If you've faced the same kinds of questions I had when I was starting out, I know that you'll find these 500 plus pages of information that we have put together very interesting and useful!





To start, scroll down on this page to preview some of the topics or main areas of interest,


Of course, with all the harder-to-find pages on this site, you might also want to search for specific information using the search box below, It will show you all our pages that refer to the specific word or phrase you are looking for. For example, try entering 'red' here:

If you entered 'red' you see that there are over 100 pages on this site that mention red beach glass.

Even more fun is to participate in sharing your thoughts and ideas, crafts and photos, and to see what others are doing, go to the Odyssey Sea Glass Forums.

Happy hunting on your Sea Glass Odyssey,!



David and Lin Schneider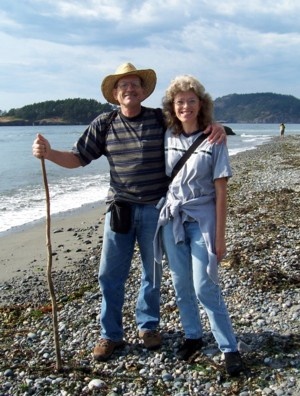 On Whidbey Island of the San Juans, Washington State
Share
Search
Odyssey Sea Glass's
1200+ Pages
Photo of the Month
Comments from Our Viewers
---
"Hi David,

I received your sea glass hearts and I LOVE them all.

Thank you so much for sending the extra hearts.

I was so touched by your thoughtfulness and I appreciate you sharing these special gifts from the sea! Hope to see more of your sea glass soon!

Thanks again,"

Diane
"Hi David,

Just wanted to tell you thank you for the monthly sea glass newsletter. I love it, and look forward to it.

Thanks again to you and your wife."

Judi
"Hi David,

I just wanted to let you know I appreciate receiving my sea glass order so quickly.

Love the flowers, wave crest & rare pastels and the little extra surprise....you made my day!!"

Diane
"I am so fascinated by sea glass - I can't believe at 70 I found a new hobby.

Thanks for the opportunity to search and read up on this!"

Sonja
"Your site made me so happy tonight! Why?

Many happy memories swirled back into my mind when I saw your pictures. I spent my childhood on the beaches of Cape Cod and we spent many happy hours looking for sea glass."

Candee
"It is a pleasure and refreshing to meet people in the sea glass community that are willing to share! I got some great tips from your site. It was wonderful not to spend my entire vacation looking for a beach. Thanks again!"

Maryanne K.W.
"Hi David and Lin.

Love your sea glass web site. I enjoy your picture of the month and intend on winning at least once.

I have been collecting and creating things from sea glass for over twenty years. I find my sea glass on the beautiful shores of Lake Erie in Cleveland Ohio.

Thank you for sharing your treasures with me." Yours truly,

Cathy Lincks
"What an AWESOME site! I love reading about it, looking at all of your pictures, and planning my next vacation to the perfect beach.

Keep up the great work!"

Paula
"I'm a new subscriber to your newsletter and I love it!"

Rena
"Hi David and Lin - I love your website! Thank you for sharing info..."

Teryl
"Hi David. Its Bill and Joan Laverick, Durham City, North East of England. We love reading your posts. Keep up the good work!"

Bill & Joan
"I soo look forward to reading your blogs."

Jacqueline Giguere
"Just wanted to let you know (since you were so helpful) that I won a blue ribbon (1st place) in Gifford Middle School Science Fair in the category of Environmental Science with my topic - Effect of a Florida Tidal Inlet on Wrack Line Sea Glass Volume.

Now, I will compete in the Regional Science Fair which will take place on Feb 2nd. My mom and dad and I had a lot of fun searching for sea glass.

Thanks,"

Mary Hyde
"I am beginning to be a typical sea glass hunter - always looking for fun places to find glass!

I think your site is great - very informative - thanks for the time and effort you put into it. "

Karen
"I am beginning to be a typical sea glass hunter - always looking for fun places to find glass!

I think your site is great - very informative - thanks for the time and effort you put into it. "

Karen
"Dear David and Lin

I just wanted to send you a quick email to say thank you for all of the inspiration you have given me during the time I have been subscribing to your newsletter.

I have been collecting sea glass for years but last year began making jewellery out of my finds.

Your newsletter has been invaluable so I think a great big THANK YOU is in order.

Kind regards and very best wishes, "

Marion Jackson
"David & Linda,

So wonderful to have cross paths with you and thanks for sharing your expertise on sea glass along with your wonderful website.

Ann & I have caught your infectous seaglass fever!

Hope to cross paths soon.

Happy and safe traveling!"

Richard C. Wong · Portland, Oregon
---
Buy Sea Glass Art