| | | |
| --- | --- | --- |
| Like this page! | | |


Home - Bulk Sea Glass

Bulk Sea Glass - Your Guide to Buying
Bulk Beach Glass and Sea Glass
Your need-to-know information on bulk sea glass - The size, color, availability; genuine or imitation.






Be sure to read all of this guide before purchasing your sea glass in bulk.


What Can Bulk Sea or Beach Glass be Used For?
Sea glass in bulk has many uses, usually for mosaic projects.
However, one of the fascinating things about sea glass is that each piece is unique.

So:
It is rare to find even two pieces near each other on a beach that are even the same color, much less size, color, and shape.
What Do I Need to Know When Buying the Glass?
When buying bulk sea glass, it will be difficult to buy a group or lot of sea glass that is the same color and shape.

Bulk sea glass will usually come in sized lots; that is, the pieces will be similar in size (though not necessarily in shape).
Generally, the sizes run

: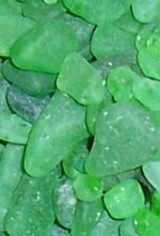 Less than dime size = Small.
Between dime and quarter size = Medium.
Larger than a quarter = Large.
However, different sellers have different ways of stating the size of the sea glass in each lot.

All serious sellers, though, will give you a clear idea of the size you will be purchasing.
Bulk sea glass can be sold by weight or number of pieces or both.

I don't believe I have ever seen it sold by the square inches that it will cover (similar to floor tile or paint), but that might not be a bad idea for those who are using the sea glass for mosaics.
The more details listed as to the size of the batch or lot, the better.

You need to have a clear idea of the actual quantity you will be getting before buying sea glass in bulk. You need to know if what you are purchasing is as much as you need for your project or not.
Bulk Sea Glass
Blues
Is it Man-Made or Imitation Sea Glass?
I use the term "man-made" sea glass here just to simplify things, as sea glass, by definition, can only be made by natural elements.

It might more accurately be described as imitation sea glass, artificial sea glass, or machine-tumbled glass.

Some refer to it as Craft Glass, but that is not very descriptive and is confusing.
For many projects such as mosaics, genuine sea glass can be purchased; however, it will usually be one of the common colors, ie, white, green, or brown.

To add other colors, you may be limited by cost or availability of the color desired.
In that case, you might want to buy "man-made" or artificial sea glass in bulk.





Purchasing Imitation Sea Glass in Bulk?
If you decide to buy man-made sea glass or beach glass in bulk, remember to ALWAYS refer to it as artificial or imitation sea glass and NEVER call it the real thing!

If you forget and refer to it as Sea Glass, you will lose your friends and your hair will fall out!

Not really, of course, but you do want keep a good reputation "on the beach."
Genuine bulk sea glass can be bought
on line here at the
Odyssey Store
. It is also sometimes available on eBay and other web sites.
Artificial sea glass
is almost always available in many colors at your local crafts shop.
Whichever way, real or artificial, you decide to go, have fun...But know the real thing!

Here's some of our awesome bulk sea glass for you to see:
Special - Rare and Unusual Sea Glass
Find out what these specials are...peaches, apples, limes, milk... it sounds delicious! And these are colors that you may want to take a look at!


Go to Odyssey Home Page from Bulk Sea Glass