Our Sea Glass For Sale through Dec. 5 click or tap here...

Sea Glass Chimes/Suncatcher and Wreath
by Christine Rogers
(Puerto Penasco, Mexico)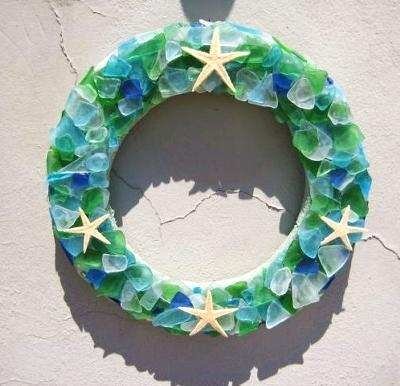 Sea Glass Wreath
~ craft project submitted by Christine in Puerto Peñasco, Mexico


"I moved to Mexico about 3 years ago and live right near the beach. When I was there I noticed a lot of sea glass and decided to collect it.
After a while I had so much that I wanted to do something with it besides put it in a jar.
Sea Glass Chimes/Suncatcher - So I came up with a few things like this one and I'd like to show you what I made.
Sea Glass Wreath - I made this wreath from a piece of styrofoam that I cut out and then glued on various shades of blue green and white sea glass. I topped it off with 4 starfish to make it a little unique."
~
submitted by

Christine

Help us out. Can you identify the origins of these pieces of sea glass?
Glass Beach ~ A Sea Glass Lover's Paradise by Lisa D Walker
This book is a compilation of the fascinating history and the jeweled yet fragile present, of a beach located in Fort Bragg, California, called Glass Beach.

Read more...

---