Home - Buy Sea Glass - Mixed Jewelry Sea Glass
Mixed Jewelry Sea Glass
Perfect for crafts and other art projects, the sea glass here has all been collected by hand by our family and friends.

Mixed Colors of Jewelry Grade Sea Glass
Note: We (David and Lin at OdysseySeaGlass) have opened our 2017 sales of sea glass, jewelry, and art. We began posting a few of our products on September 23, 2017.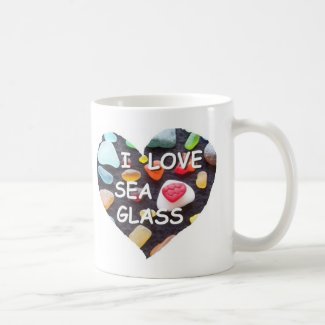 l LOVE SEA GLASS Classic White Coffee Mug
by
OdysseySeaGlass
Look at Sea Mugs online at
Zazzle.com
---
More Photos - One  Stock#: PS2132-3-4

Category: Strait of Juan de Fuca, Olympic Peninsula, Washington Coast, USA

Grade: Jewelry A and B

Colors include: UV Green (Vaseline Glass) - Bright Green - Smoky Olive - Light Brown Ocher - Mars Yellow - Sienna

Pieces: 50

$19.95

Not Available (see note at top of this page)
---
---
More Photos - One  Stock#: PS2038-0

Category: Ridged Sea Glass - Strait of Juan de Fuca, Olympic Peninsula, Washington Coast

Grade: Jewelry A and B

Colors include: Kelly Green - Seafoam - Light Gray - Turquoise/Aqua - White

Pieces: 10


$9.95  - Not available

---
---
More Photos - One Stock#: PS2048-0-1

Category: Sea Glass - Strait of Juan de Fuca, Olympic Peninsula, Washington Coast

Grade: Jewelry A and B

Colors include: Teal - Cinnabar Green - Brown - Ochre Light - Cobalt Blue - Fresh Green - Celadon - Light Blue - White

Pieces: 9

$16.95

Not Available (see note at top of this page)
---
---
More Photos - One Stock#: PS2050-2-3

Category: Ridged Sea Glass - Strait of Juan de Fuca, Olympic Peninsula, Washington Coast

Grade: Jewelry A and B

Colors include: Cobalt Blue - Olive Green - Lime Green - Kelly Green - Turquoise/Aqua - White

Pieces: 25

$15.95 - Not Available

---
---
More Photos - One Stock#: PS2056-0+

Category: Sea Glass - Strait of Juan de Fuca, Olympic Peninsula, Washington Coast

Grade: Jewelry A and B

Colors include: Gray - Sapgreen Extra - Aqua Green - Aqua Blue - White

Pieces: 5

$14.95
(Sales temporarily suspended)
---
---
More Photos - Size
Stock#: PS1970

Category: Sea Glass - Washington Coast, Olympic Peninsula, Strait of Juan de Fuca

Grade: Jewelry A and Jewelery B
Colors: Vaseline Glass (UV glass) Green - Cornflower Blue - Olive Greeen

Pieces: 24


$12.95
(Sales temporarily suspended)
---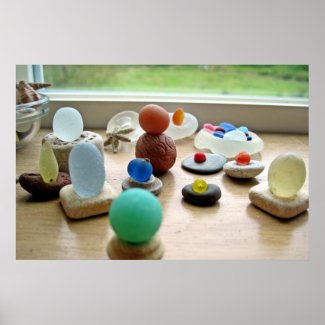 Sea Glass Delight
by
OdysseySeaGlass
Browse another
Poster template
design online at Zazzle
---
---
---
More Photos - One

Stock#: PS1446

Category: Sea Glass and Driftwood, Washington State, Olympic Peninsula

Grade: Jewelry A and B
Color: Green, Cocoa Brown, White
Pieces: 9

$8.95
(Sales temporarily suspended)
---
---
More Photos - Size
Stock#: PS2006

Category: Sea Glass - Washington Coast, Olympic Peninsula, Strait of Juan de Fuca

Grade: Jewelry A and Jewelry B
Color: Pastel Blues - Pastel Greens

Pieces: 30


$16.95
(Sales temporarily suspended)
---
---
More Photos - Size

Stock#: PS1440

Category: Sea Glass and Driftwood, Washington State, Olympic Peninsula

Grade: Jewelry A and B
Color: Green, Cocoa Brown, White

Pieces: 9

$8.95
(Sales temporarily suspended)
---



"Evening Romance" Mixed Colors Sea Glass


More photos - One


Stock#: PS2130



Category: Sea Glass from the Olympic Peninsula, Washington


Grade: Craft A to Craft B
Colors include: Red (4 tinies) - Ultraviolet Green (2) - Blue-Gray - Mars Yellow - Cadmium Green - Turquoise - Lime Green - Olive - Cornflower Blue - Cobalt Blue - Mint Green - Bright Green - Light Brown Ochre - White

Pieces: 65+


$17.95
(Sales temporarily suspended)




"Summer Dreams" Mixed Colors Sea Glass


More photos - One - Two - Size


Stock#: PS2029



Category: Sea Glass from the Strait of Juan de Fuca, Washington, USA


Grade: Craft A to Craft B
Colors include: Bright Red - Cranberry Red - Pale Yellow - Light Amethyst - Lime Green - Citron - Blue Grey - Cobalt Blue - Cornflower Blue - Turquoise - Sea Green - Seafoam - Naples Yellow Deep - Root Beer

Pieces: 65

$24.95

(Sales temporarily suspended)



"Meltdown Mania" Mixed Colors Sea Glass


More photos - One - Two - Size


Stock#: PS2055



Category: Firemelt (Bonfire) Sea Glass from the Strait of Juan de Fuca, Washington, USA


Grade: Jewelry A to Craft A
Colors include: Firemelt mixes

Pieces: 11

$9.95
(Sales temporarily suspended)
Stock#: PS1378
This sea glass is a mix from the Pacific Ocean - Strait of San Juan de Fuca, Washington, USA.

* Grade: Craft A and B
* Color: Green, Cobalt, Cornflower
* Pieces: 30+



$8.95
(Sales temporarily suspended)



"All Shook Up" Mixed Colors Sea Glass & Pottery


More photos - One


Stock#: PS1978



Category: Sea Glass from the Strait of Juan de Fuca, Olympic Peninsula, Washington State, USA


Grade: Jewelry B to Craft B
Colors include: Milk Glass - Jadite - UV - Lilac - Red (2) - Cobalt - Turquoise - Cornflower Blue - Olive - Kelly Green - Wine Brown - Honey Amber - Mint Green - Seafoam - Fire Melts - White

Pieces: 65



$21.95
(Sales temporarily suspended)



"Belleza" Mixed Colors Sea Glass


More photos - One


Stock#: PS1887



Category: Sea Glass from: Olympic Peninsula, Washington; Chesapeake Bay, Maryland


Grade: Jewelry A to Craft B
Colors include: Pink - Ultraviolet Green - Blue-Gray - Orange-Amber - Gray - Peacock Green - Cornflower Blue - Teal - Yellow Green - Seafoam - Turquoise - Root Beer Brown

Pieces: 65



$19.95

SOLD


Compare size of coins in centimeters


---