Home - Sea Glass Directory - Sea Glass Guide
Black Sea Glass, Black Beach Glass
On this page, you'll find out about:


From what we've researched, heard from others, and found through experience is that true "black" glass is almost impossible to find.

Well, not impossible. Just very hard. We'll talk about why farther down the page.


What Is Black Sea Glass?
The term "black glass" (also called blackglass), as used frequently by sea glass collectors as well as collectors of bottles, insulators and some other old glass products, often refers to glass that

APPEARS to be black

.

Here's an example of some "black sea glass" from Italy.



The common name "black glass" is perfectly fine to use when referring to glass that appears to be black to the naked eye.

This very dark glass, though, when held to bright light, shows that it is actually colored.



"Black glass" in many cases is a very dark olive green. However, it can also be a very dark shade of purple, red, blue, or brown..

In the next photos, the "black sea glass" is a somewhat lighter shade of green, which can be seen when the sun shines through it.


In normal lighting, this piece would be considered "black glass," while it's actually a dark shade of green.
Black Sea Glass - Rare?
"Black glass" of dark green or dark brown were in fairly common use for bottles, although even these colors are somewhat rare to find in a sea glass collection. Why?

Well, for one very good reason at least - it's very difficult in normal lighting to tell the difference between a piece of very dark, frosted sea glass and the pebbles or rocks on the beach. Add some seaweed and shells and your eyes are going to have a a lot of fun trying to pick it out.



***

When we have found black glass, it has NOT been because of the color; rather, it, just "looked" like sea glass.
After searching for sea glass on many trips to the beach, your eye begins to catch not only colors and shapes but will start to catch the type of frosted or pitted surface found almost exclusively on sea or beach glass.
So, in spite of being the same color as everything around it, your trained eye may still "fixate" on that object.

***


Much of the "black glass," or very dark glass, that ends up as tumbled, frosted sea glass was originally from bottles containing fluids that could be damaged by exposure to sunlight. This was most important one hundred years ago before refrigeration existed and before the "sophisticated" preservatives that are now widely used.

In many cases medicines and chemicals or even beer and wine had to be transported and stored for long periods of time in less than optimum conditions, and dark, thick glass was one of the best ways to insure conservation of the liquid the bottles contained.


Summarizing this information, then, we can say that black beach/sea glass is fairly rare among collectors for at least these two reasons.
First,

it is extremely hard to distinguish a tumbled black glass fragment from the other rocks on the beach, so what little there might be is likely to be overlooked.

Second, most black glass bottles were made before 1880. Other black glass products (see below) make up only a tiny portion of production compared to bottles..
More About the Use of Black Glass in Bottles
Strength - Most of the black glass bottles were made by adding iron slag, which produced a stronger glass more resistant to shattering; another reason for using black glass for bottles subject to harsh conditions in centuries past.


You might compare the strength of this "fortified" glass to some other glass colors. Colors such as blue, green, brown, and red were generally made by adding metals or combinations of metals. The strength of the glass was affected by how the metal used reacted with the other ingredients in the glass-making process.

From what we've seen, the very dark "black" sea glass is more resistant to breakage, and very dark colors (with the added iron slag, etc) result in finds of some pretty hunky old sea glass.

The Making of Black Glass for Black Glass Merchandise
The center for glassmaking from the 14th century was the island of

Murano

in present-day Italy, where many new techniques were developed.



Murano became the center of a lucrative export trade in dinnerware, mirrors, and other luxury items. Black glass was called obsidianus after obsidian stone.
Milk glass

first made in Venice in the 16th century included black glass.
Influenced by the milk glass from Venice,

Opaline glass

was a decorative style of glass made in France from 1800 to the 1890s and colors included black glass.
Some

Depression glass

was black. This was dinnerware and related glassware, not bottles. For example, this flower arrangement bowl.
Photo courtesy of www.retroartglass.com
Black depression glass flower bowl.

See
Warman's Depression Glass: Identification and Value Guide
Contemporary Fiesta

ware (since 1986) included black glass.
Other general uses:
Vitrite, also known as foam glass, is a very low fusing point black glass mainly used for the insulation base of electric lamps.
Next, find out about these exciting sea glass colors:


Blue Sea Glass
See beautiful blue sea glass photos. What are the different blues that are found in beach glass colors? Blue shards of beach glass come in many hues and intensities...



Green Sea Glass
It looks so minty, but tastes salty. In the right light, green sea glass is prettier than an emerald. What is it? Green sea or beach glass began as discarded bottles or ...

Go from Black Sea Glass to Sea Glass Color
Go to Odyssey Sea Glass Home Page
Search
Odyssey Sea Glass's
1200+ Pages
Photo of the Month
Comments from Our Viewers
---
"Hi David,

I received your sea glass hearts and I LOVE them all.

Thank you so much for sending the extra hearts.

I was so touched by your thoughtfulness and I appreciate you sharing these special gifts from the sea! Hope to see more of your sea glass soon!

Thanks again,"

Diane
"Hi David,

Just wanted to tell you thank you for the monthly sea glass newsletter. I love it, and look forward to it.

Thanks again to you and your wife."

Judi
"Hi David,

I just wanted to let you know I appreciate receiving my sea glass order so quickly.

Love the flowers, wave crest & rare pastels and the little extra surprise....you made my day!!"

Diane
"I am so fascinated by sea glass - I can't believe at 70 I found a new hobby.

Thanks for the opportunity to search and read up on this!"

Sonja
"Your site made me so happy tonight! Why?

Many happy memories swirled back into my mind when I saw your pictures. I spent my childhood on the beaches of Cape Cod and we spent many happy hours looking for sea glass."

Candee
"It is a pleasure and refreshing to meet people in the sea glass community that are willing to share! I got some great tips from your site. It was wonderful not to spend my entire vacation looking for a beach. Thanks again!"

Maryanne K.W.
"Hi David and Lin.

Love your sea glass web site. I enjoy your picture of the month and intend on winning at least once.

I have been collecting and creating things from sea glass for over twenty years. I find my sea glass on the beautiful shores of Lake Erie in Cleveland Ohio.

Thank you for sharing your treasures with me." Yours truly,

Cathy Lincks
"What an AWESOME site! I love reading about it, looking at all of your pictures, and planning my next vacation to the perfect beach.

Keep up the great work! "

Paula
"I'm a new subscriber to your newsletter and I love it!"

Rena
"Hi David and Lin - I love your website! Thank you for sharing info..."

Teryl
"Hi David. Its Bill and Joan Laverick, Durham City, North East of England. We love reading your posts. Keep up the good work!"

Bill & Joan
"I soo look forward to reading your blogs."

Jacqueline Giguere
"Just wanted to let you know (since you were so helpful) that I won a blue ribbon (1st place) in Gifford Middle School Science Fair in the category of Environmental Science with my topic - Effect of a Florida Tidal Inlet on Wrack Line Sea Glass Volume.

Now, I will compete in the Regional Science Fair which will take place on Feb 2nd. My mom and dad and I had a lot of fun searching for sea glass.

Thanks,"

Mary Hyde
"I am beginning to be a typical sea glass hunter - always looking for fun places to find glass!

I think your site is great - very informative - thanks for the time and effort you put into it. "

Karen
"I am beginning to be a typical sea glass hunter - always looking for fun places to find glass!

I think your site is great - very informative - thanks for the time and effort you put into it. "

Karen
"I love your ems.--am 77 and try to get"glassin" whenever anyone will take me to the beach!! :-)) "

P. Paul
"Hi David

Just wanted to tell you thank you for the monthly sea glass newsletter. I love it, and look for ward to it.

Thanks again to you and your wife,

Judi Weber
"Hi David and Lin!

I SO enjoy you newsletter! Please forward it to my sister. I've got her hooked on the beauty of sea glass!

Thanks in advance! Happy 'foraging'."

Joan D
" Hi David and Lin,

I have shared your website with my other sea glass fanatic friends over the last couple of years and they love it as much as I do.

Yours is my favourite website of all time and the very best website I've seen for everything sea glass.

I can lose myself for hours in your website. Dangerous place!

"

Anne O, Toronto
---
Keep Up To Date With OdysseySeaGlass's Most Recent Blogs and Pages
---
Feb 26, 2014
Red Sea Glass is a Rare Beach Find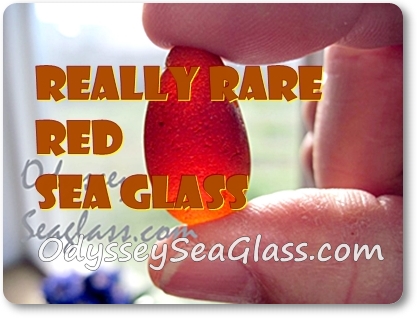 Red Sea Glass is a Rare Beach Find - Why is it hard to find? How can I find it? Here, we will focus on finding rare beach glass - why certain beaches have the rare colors and why others don't.