Dark Olive Or Black Sea Glass?
by Karen C.
(NC)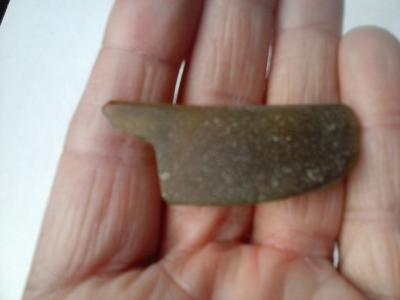 Dark Olive Or Black Sea Glass?
I found this piece of sea glass that I believe is dark olive on the Beach at Fort Story on the Chesapeake Bay in VA. on December 28th of 2015.

It was sunny, light breeze, Temp. was around 70 degrees!

It is beautifully frosted.

I have done some research on this piece and believe it to be from around the turn of the century...late 1800's to early 1900's.

It is approximately 2-3cm in thickness and is curved.

According to the research that I did, it is possibly a shard from an ink well, or a shard from a spring water bottle.

Any help with identification of this shard, the color, and the age, etc... would be greatly appreciated.

Happy Hunting Always!

Karen C.


UPDATE

Thanks to all who helped with the identification and info on the dark olive piece of glass I found at Ft. Story off the Chesapeake in VA.

It is now wrapped in silver and will be sent to the gallery in VA that sells some of our "wearable art."

The description, and history of the piece will go along as well so that the new owner knows that they are wearing a special piece of time...

KC



Scroll down for comments...

Check out some more pages on Sea Glass Identification: