Dark Purple Beach Glass
by Kelly Thaden
(Austin Texas)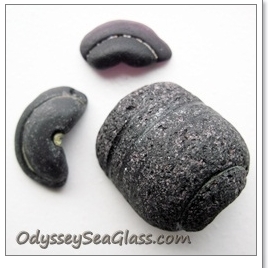 Very Dark Purple Insulator Glass (stock photo)
~ sea glass question submitted by Kelly Thaden in Austin, Texas


"I have some really dark purple pieces.
They are so dark you can only see the color by holding it up to the sun and even then can only see the color on the very edge of the glass.
Where is this glass from?
They are shaped like some of the cobalt blue pieces that come from the light bulbs."
~ submitted by

Kelly Thaden
Scroll down to see comments and info on old insulator glass...
Sea Glass Posters by David and Lin at OdysseySeaGlass.com