Help identify this amazing piece!
by Betsy
(Milwaukee WI)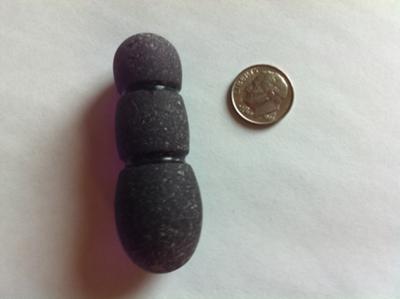 By: Betsy - Milwaukee WI

This piece of beach glass was found yesterday (12/8/11) in Milwaukee, WI along the shore of Lake Michigan.

Could it be a bottle stopper?

It is dark purple, perfectly frosted, and medium purple when held up to the light.

I am new to this hobby - completely hooked - and I realize this may be a once in a lifetime type find. Or maybe not...

Your help in identification is appreciated!

Betsy


COMMENTS - To add your comment, scroll down to the bottom of the page
Map of Milwaukee, Wisconsin beach area:
View Larger Map
More on Milwaukee, Wisconsin beach glass from OdysseySeaGlass:


A 1000-Mile Walk on the Beach - One Woman's Trek of the Perimeter of Lake Michigan

In 2009, Loreen Niewenhuis walked completely around Lake Michigan. This book chronicles that journey, a 1,000-mile walk around the world's fifth-largest lake. The book explores both the geology of the lake and the measure of a person--a woman, married, mother of two sons (who joined her for portions of the walk). But most of the walk was done solo, an adventure in discovery of self and place.


Niewenhuis conveys a sense of the magnitude of the lake she loves, a place so elemental to the four Midwestern states that form its shores.

From a ground-level perspective, the book explores the natural and human history of Lake Michigan . . . and raises important questions about preserving our wild places and protecting fragile ecosystems on which we all depend.
Milwaukee, WI - Find the best deal, compare prices, and read what other travelers have to say at TripAdvisor