Canova Beach, Indian Harbor Beach, Florida.
by Karen Palmer
(Brevard County, Florida)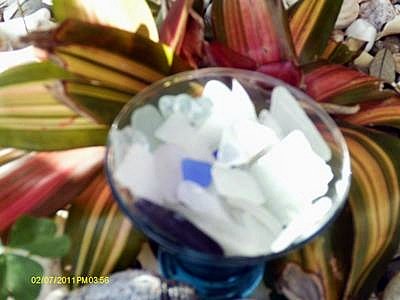 ~ submitted by Karen Palmer in Brevard County, Florida

Name of the Beach:


Canova Beach and also north and south of this beach about 1/4 mile.

City nearest to that beach:
Paradise Beach

The state, country, or island where the beach is.
Florida, USA

I have found as many as 10 pieces within 2 hrs.
I recently found my first cobalt blue last week there at Canova.
This beach is very rocky so when the tide is out, I tend to find many pieces lodged between the rocks.
It is a dog beach so there is a lot of traffic. If you go around 5:00p and the tide is going out is the best time.
I would rate this beach as --- Fair- 1 to 4 pieces of jewelry grade sea glass found per hour.*
by Karen Palmer




*Rating: Note that no jewelry grade pieces are shown in the photos.
Here are more pages about Florida sea glass:


About Florida and Sea Glass
Florida is a beautiful state... Its beaches are famous for being long and sandy and just great for folks of any age.Unfortunately, long sandy beaches...



East Coast Florida Glass
I am just a beginner in the sea glass world but I have been lucky at finding some nice pieces. I found this piece on the east coast of Florida



Questions about Sea Glass
Questions about sea glass collecting, identification, beaches, crafts, colors, value... and just about everything - ask here!