Christy and Yona
by David (editor)
(Bow, WA)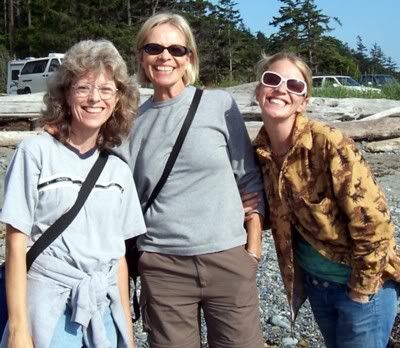 Lin, Christy,and Yona, Beach People Photos Click photo to zoom
Lin and I (David) were looking for sea glass today (after finding the amberina earlier) and heard someone say, "Excuse me, could you take our picture?"
I said, "Sure...and while we're at it, why don't you take our picture?" So we exchanged cameras.
Anyway, there is Lin with Christy and her daughter Yona. Christy is from Virginia and Yona from North Myrtle Beach, South Carolina.
Apparently, they both have been spending a good part of the last few summers here in Washington State.
It is definitely cooler here in the summer, usually, but this year everything is topsy turvy here in Washington. We have had a stretch of some weeks of weather in the 70's and 80's with just a few cooler days thrown in.
When we left the house for the beach today (on a hill in the woods), it was 63 degrees and cloudy.
But the beach was beautiful and somewhere in the 70's. Amazingly, the weather report is calling for upper 80's to 90's for the coming days!
Christy and Yona
asked what they should not miss seeing here, and we highly recommended the ferry ride to the San Juan Islands.
The ferry leaves Anacortes, about 20 minutes drive north of this beach. It makes 2-3 stops at various islands, including Orcas Island and Friday Harbor. You get an all-day pass.
It is rated one of the top 10 ferry rides in the world, if I remember correctly. Whales can be seen if you are fortunate.