Fortescue Beach, NJ
by Amanda
(Breinigsville, PA, US)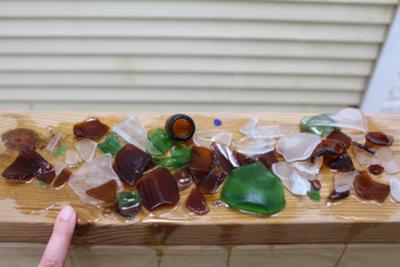 Mostly green,brown, white with one tiny piece of blue. My finger for size reference.
Fortescue Beach, NJ

On a daytrip to Cape May, NJ, we decided to take a detour to Fortescue after I read on this website that it was a good place to find beach glass.

Lord was it ever!

I found a bucket full of med. to large pieces scattered up and down the beach and I didn't even have to get wet!

On the downside, it was all green, brown, and white with one tiny piece of cobalt blue (see pictures).

I also found a large piece of porcelain that my husband laughingly thinks is part of a toilet. Can't tell, but it's dated, so who knows.

If you are planning a trip there, it's a small town and the beach is located of New Jersey Ave. There is no passes to buy or public facilities.

It is a VERY small beach and we only saw 1 older couple there.

Note: A word of warning and some advice. Our car was swarmed by 'greenheads' which are these large horse-flys that bite.

They covered our car and attacked us when we got out.

I had to put on jeans, wrap a towel around my shoulders, wear a hat and glasses to even spend 15 minutes on the beach and they still bit any area left uncovered.

There must have been over 50 of them swarming me as I walked down the beach making it difficlut to hunt, not to mention, I dared not stop walking, even as I was stooping to retrieve a piece.

I've read online that the best time to avoid them is to go in late August or September and early in the morning.

If you go as we did, July 4th weekend, mid-day,cover up or you'll be sorry!

They're not dangerous but their bites sting and my family
ended up staying in the car as I hunted.
I guess that's what comes with being near a marsh.
Definitely littered with sea glass, though, and I wonder what I would have found had I had the chance to stay and do a thorough hunt.
Good luck, guys!
OdysseySeaGlass appreciates this and all reports we receive. However, when evaluating a report, use good judgment.

Note:
This report rated the beach "--- Excellent - 10+ pieces of jewelry grade sea glass found per hour."

However, the photos showed only craft grade sea glass.

As always, we remind folks that sea glass beach reports are not confirmed by Lin or me at Odyssey Sea Glass unless otherwise stated.

Reports that do not include photos of the sea glass found are less reliable. So use your own judgement in deciding whether to travel to this particular beach or not.


David and Lin @ OdysseySeaGlass
Here are some more pages about Fortescue and sea glass:


Fortescue, NJ - Sea Glass Report
Based on the recommendations on this site, my hubby and I decided to leave Atlantic City NJ - where we're visiting and usually find lots of beach glass.

Heart Stones 

~

by Josie Iselin


"I had the privilege of meeting and talking with Josie Iselin at the Santa Cruz Sea Glass Festival recently. Josie is the author of several excellent beach-finds-art-photography books. "Heart Stones is her latest and merits a place on your coffee table."
~

David Schneider, OdysseySeaGlass.com