Frankston Sea Glass Catch 23 FEB 2011
by Nat
(Frankston, Victoria, Australia)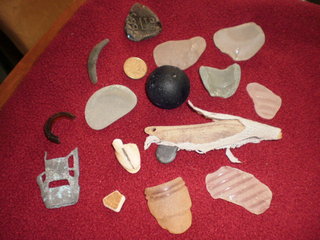 BEST TO DATE
These WERE the favorites from my collection.


Couldn't believe it when i found gorgeous blue 'shooter'glass marble at Frankston among rocks near boat ramp.
Also found ceramic foot from a statue there, and these other treasures too.
Tonight at Frankston my husband found two pieces of red glass and an orange piece. I've been collecting for years. I put it down to beginners luck!
Just had success with drilling hole in sea glass, glass/tile drill bit.