June 23rd 2014 - Huanchaco Peru Sea Glass
by David Schneider
(Huanchaco, Peru, South America)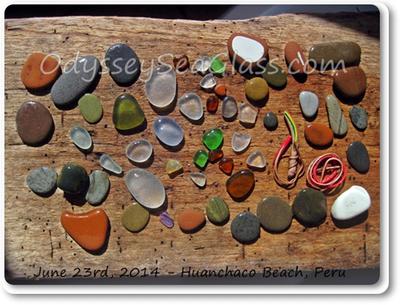 June 23, 2014, sea glass catch of the day
June 23rd 2014 - Huanchaco Peru Sea Glass


~ submitted by David at OdysseySeaGlass.com
Day before yesterday, Lin went for a walk on the beach without me (David).
I have bad back problems, so was kicking back.
Anyway, she found a heart rock (see 2nd photo above) which I thought was very nice.
However, she just brought back the photo, not the rock, which hurt my feelings.
Not really. My heart is like a rock. I am an island in the midst of the sea of humanity. Sounds like you've heard that before? Yep!
Low tide on that day wasn't very low and was firt thing in the morning, but there were a few spots on the beach where there were piles of pebbles, even though most of the beach was sandy.
She found some really nice pieces, one of which she said, "This one is mine!"
So I'm waiting to see what piece of jewelry she'll turn it into.
~ David
***z-odyssey-C2-end-of-content-ads.shtml***
***z-odyssey-C2-end-of-content.shtml***