Pale Pink Sea Glass
by emphilis1213
~ submitted by emphilis1213 - August 2010

I'm sort of new to the sea glass world, but I won't forget my first piece of sea glass.

Before I got into sea glass, I collected rocks (which I still do).

I was walking along the beach in Acadia National Park with my friends looking for cool rocks, when I saw something interesting.

I scooped it up and put it in my pocket to look at later.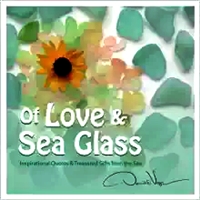 At first, I thought it was a piece of rose quartz smoothed out by the ocean. It was all "frosted", so I couldn't tell whether or not it actually was.
It didn't make sense that rose quartz would be in the sea, unless someone put it there a long time ago.
About a year later, I was told that the Great Lakes were a good spot for finding sea glass. I didn't know what sea glass looked like.
After an unsuccessful comb, I saw some sea glass that other people had found.
I suddenly realized that my "rose quartz" was actually a piece of pale pink sea glass!
by

emphilis1213
Map of Acadia National Park and Bar Harbor area of Maine:
View Larger Map