Port Townsend, Washington - Port Townsend Beach Gems
by Carol Kummerow
(Port Townsend, WA USA)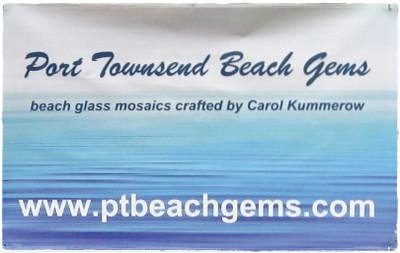 Port Townsend Beach Gems

U.S.A. Washington State, Port Townsend
Carol Kummerow, Phone (360)362-2831

I am a sea glass mosaic artist. Unique mosaics are made from sea glass collected on the beaches of Port Townsend, Washington. Even the tiniest pieces of sea glass, jadeite and pottery are useful to me.
After collecting, cleaning and sorting the pieces, I use a clear, flexible cement to adhere the glass to recycled glassware and picture frame glass, or on colored plastic sheet protectors for tiny necklaces and ornaments.

Larger pieces of glass are formed into wind chimes hanging from pieces of driftwood. I sell my wares at local craft vendor markets, from my website, and direct mail.
Other than the mosaic necklaces, I leave the jewelry making to other beach glass artists.
Background

I've always been an avid beachcomber and an artist, but it wasn't until I moved to Port Townsend in 2011 that I started working the sea glass into my art.
When the jars of sea glass were overflowing and filling one whole counter of my kitchen, my husband told me to do something with it all.
So I started a business.
My first products were candle holders which glow beautifully when lit. From there, I expanded my line to include vases, coasters, picture frames, sun catchers, necklaces, ornaments, mobiles and wind chimes.
I'm always looking forward to the next big idea and trying out new designs.

My husband dutifully serves as my "roadie" for the craft shows, helping me pack the car, set up the tent, add the weights, unpack and hang the sun catchers and mobiles.
He also has to help me take it all down at the end of the show, and has become an experienced wrapper and packer.
We are fortunate to have several fabulous beaches for collecting sea glass in this area. While friends in other areas have collected and sent me some sea glass, most of the glass I use has been collected by me here in Port Townsend.
I can guarantee it is authentic, it is local and I don't break the pieces or tumble them.
I use the glass as I find it. And yes, sometimes you will see me sitting there in a gravel bed, sifting through for the tiniest pieces. If I can pick it up, I do! By the way, I keep the tiny black stones that sometimes cling to the glass. They make perfect coal eyes and buttons for my snowman ornaments!
Current stock is shown and sold on my website: www.ptbeachgems.com
---
---
PLEASE NOTE:

The sea glass business listing on this page is not part of OdysseySeaGlass.com. We provide this listing as a free service to other sea glass related businesses. So, if you need information about the business on this page, you will have to contact them directly. Their contact information appears below.
Thanks!
---
---
Contact Info
Port Townsend Beach Gems -- beach glass mosaics crafted by Carol Kummerow
Contact via my website: www.ptbeachgems.com or
by phone at (360)362-2831.