Puerto Rico Amazon.com Tees
Rincon is famous for its beaches, though mainly for the wild surf breaks that draw surfers from all around the world — primarily in the winter months. But you can also find some calmer waters and secluded stretches of sand. One thing you can get at most Rincon beaches is a great sunset view — that alone might be worth a visit!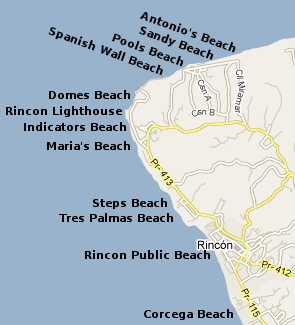 We went to Rincon in mid-October and explored some of the beaches. October is still low season, and the waves aren't too large yet, so there weren't many people around. The waves get really big in "winter" — December through March — and start getting smaller throughout the spring and summer.
We are not surfers, nor really beach people for that matter, but we like the look of a beach with lots of clean sand and small waves. From what we saw, most of Rincon beaches are pretty, but not really for swimming or laying on the beach. But we did find a few beauties worth mentioning.
Some Beaches in Rincon
Our favorite beach for a large, unspoiled, sandy beach was Spanish Wall Beach. This beach is located north of the Rincon Lighthouse. It was a nice, clean beach with about 40-50 feet of sand to the waterline and all you saw was sand — it was a long, open beach. Waves were so-so — not really for swimming when we were there. When the waves pick up in the winter, I imagine this would be a good surfing beach.
I enjoyed the walk from Domes Beach, and I also enjoyed finding shells and sea glass everywhere on the beach. When we went, we were alone for a while, then another couple showed up.
We walked from Domes Beach along a trail that starts right at the Domes fence and goes down along the top of the Spanish Wall. The trail was muddy in areas, but no problem for walking. It was maybe 1/2-mile walk.
I believe you may also be able to get to it by going onto Pools Beach and turn left (west) and follow the path to the next beach (over the rocks) , but I can't guarantee it since we spoke to some people and they said that way is now closed. Park at Domes Beach and walk!
by Gwenn at