Red found on the Eastern Shore - Virginia - May 2012
by Jeanie
(Virginia Beach, VA)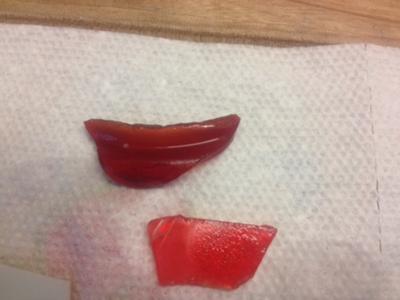 Ruby Red
By: Jeanie - Virginia Beach, VA

Me and my seaglass buddies have found the site of an old dump along the Chesapeake Bay.

Finding lots of old pottery shards, bottle stoppers, depression glass, insulators... unbelievable site.

I know that the site was once the town dump because after wading into the water and walking out 20 yards or so, I noticed there was no glass to be found...nothing washing ashore.

All the glass is concentrated in two areas about a couple hundred yards from one another. Two dump sites along the shoreline.

Wow...what a find....


---
Read more about old dump sites for sea glass:




Find Sea Glass
The likelihood of finding some kind of a dump site is quite high, especially in areas that have been populated for many generations. Of course, when it comes to ...



Maui Dump Fresh Sea Glass Hookipa Maui
Dec 25, 2009 ... Habitat and old dump glass remains at Hookipa, Maui. October 17, 2006. Other photos show good possibilities of future sea glass near this site



Fort Bragg Glass Beach
What I'm trying to find out is if it is true that when they did the redevelopment of this beach cliff, did they haul most of the glass out to the dump